In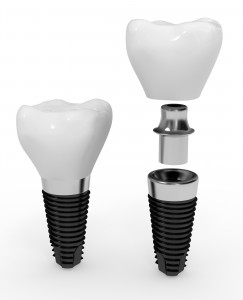 , we talked about the history of teeth whitening. Today, we'd like to focus on another popular service—dental implants.
As with whitening, people have always been looking for a way to replace missing teeth. Scientists have found evidence that the Mayans implanted tooth-shaped shells into the jaw 1,300 years ago to replace missing teeth. Going back even further, the Romans may have used cast-iron, while the Egyptians used gold wires. Other materials that have been used throughout history include rubber, ivory, copper, semi-precious stones, and oxen bone.
And then there are dental implants as we now know them. These date from around 1965. Scientist Per-Ingvar Brånemark discovered that titanium would fuse with bone tissue, leading eventually to the placement of the first dental implant in a human skull.
Why are modern-day dental implants so effective? Because they mimic nature's design, with a crown on top and a titanium root underneath to act as a prosthetic root. What's more, they're versatile enough to replace a single tooth or a full row of teeth.
Not every patient is a candidate for dental implants, though. To find out if dental implants might be right for you, call Juno Beach Restorative & Aesthetic Dentistry for a consultation. During your visit with us, Dr. Greg Riley and Dr. Duane Keuning will help you decide if dental implants will help you meet your needs, or if another service might be better.
We're proud to provide cosmetic and restorative care to Juno Beach, North Palm Beach, Palm Beach Gardens, Jupiter, and Tequesta.