Dental Implants — Juno Beach, FL
Replace You Missing Teeth from the Roots Up
When you consider an incomplete set of teeth, you may think first of the detriment to the overall appearance. While it is true that missing teeth can definitely deteriorate your self-confidence and self-image, this issue is far more serious than a mere cosmetic problem. Missing teeth can cause functional issues with your bite, change the shape of your face, and contribute to jawbone deterioration. These are all excellent reasons to turn to dental implants to restore our missing teeth. Thankfully, at Juno Beach Smiles, we can replace your missing teeth from the roots up with dental implants. Patients have relied on Drs. Riley and Keuning for dental implants and restorations since 1999. To learn more about this state-of-the-art tooth loss solution, keep reading and give us a call to schedule your consultation.
---
Why Choose Juno Beach Smiles For Dental Implants?
Permanently Replace Any Number of Missing Teeth
Dental Implant Placement & Restoration Conveniently Completed Under One Roof
Multiple Options Available for Making Dental Implants Affordable
What Are Dental Implants?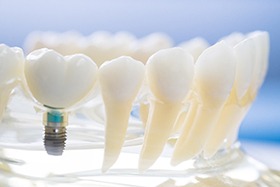 There are multiple options available for tooth replacement – dentures and partials, dental crowns and bridgework – but dental implants are widely considered to be the gold standard. Traditional solutions like bridges and dentures only replace the visible portion of your teeth above the gumline. Without roots to hold them in place like natural teeth, they tend to be far less stable, comfortable, and functional than home-grown pearly whites. On the other hand, dental implants mimic the entire structure of a missing tooth for the most reliable and lifelike replacement!
Instead of resting on your gums or relying on support from your healthy teeth, dental implants are anchored directly into your jawbone with a small titanium implant post. This post restores the root structure of a missing tooth, providing a strong foundation for the replacement teeth. In addition, replacing the missing roots also stimulates blood flow in the jawbone to prevent deterioration, which is something neither bridges nor dentures can do. When topped with one of our custom-made restorations (a crown, bridge, or denture), your dental implants will look, feel, and function just like natural teeth!
The 4 Step Dental Implant Process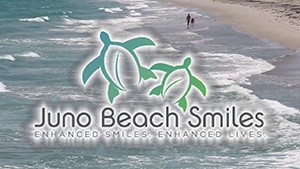 The process of placing and restoring dental implants usually takes at least several months. That may seem like a long time, but the end result is well worth it! Here at Juno Beach Smiles our doctors have all the training and experience necessary to care for you during each stage of your tooth replacement journey. We generally do not have to send you to another dental office for any part of your treatment, making your entire restorative process faster and easier.
The exact treatment process varies from patient to patient, but we can give you a general overview of how dental implants work in Juno Beach:
Benefits of Dental Implants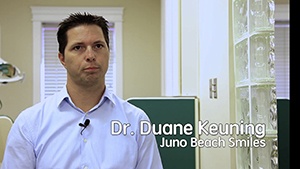 Compared to other options in tooth replacement -- like a fixed bridge or traditional denture -- dental implants offer a wealth of benefits. Nothing else rebuilds a missing tooth from the supportive root structure to the visible crown that helps you eat, speak, and smile. Unlike dentures that only sit on top of your gums, dental implants make it possible to enjoy a more stable foundation that is fully functional and doesn't leave you worrying about the potential for embarrassment. With more than 3 million people already embracing their clear advantages and 500,000 being placed each year, it's time you consider the benefits of dental implants in Juno Beach.
Who Dental Implants Can Help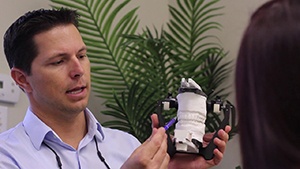 Dental implants are an incredibly versatile tooth loss solution. In fact, they can be used to address any degree of tooth loss! No matter how many teeth are missing, practically any healthy adult can complete their smile with dental implants. During your consultation with your dental implant dentist in Juno Beach, we'll review your medical history and your current oral health to make sure dental implants are a good choice for you. In many cases, even if a patient isn't initially a good candidate, preliminary treatments like bone grafting and gum disease therapy can get them ready for a brand-new smile.
Understanding the Cost of Dental Implants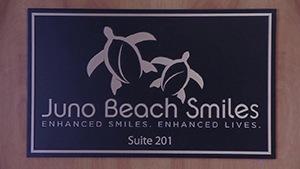 Some patients hesitate to commit to dental implants because they're concerned about cost. That is understandable, especially since this treatment does cost more than alternative tooth replacement options like dentures or dental bridges. However, we're confident that the cost of dental implants in Juno Beach is worth the price, especially since we are able to provide the start-to-finish dental implant placement and restoration all under one roof!
Although no two cases are alike, and factors can be different for everyone, you can count on our team at Juno Beach Smiles to find ways to keep your treatment affordable. Let's discuss the reasons behind the cost of dental implants, why they are a smart investment, and how you can afford your new smile.
Dental Implant Technology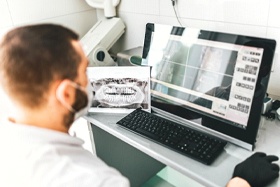 The remarkable skill of the dentists in our practice is one of the biggest factors that determine whether a dental implant treatment is successful. However, dental implant technology in Juno Beach is also hugely important. Drs. Riley and Keuning are committed to using instruments that enhance patient treatment and contribute to predictable, desirable outcomes. Below, learn more about the tools they use to make your experience as easy and efficient as possible.
3D Cone Beam Imaging/3D CT Scanning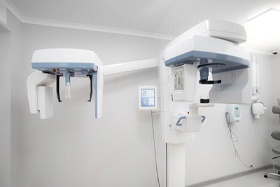 A cone beam scanner, also called a CBCT scanner or 3D CT machine, is basically a super-powered X-Ray. Whereas a regular X-Ray captures basic, two-dimensional images, a CBCT machine uses a cone-shaped beam of radiation to produce highly detailed, three-dimensional images of a patient's oral structures.
Why Is the CBCT Machine Important for Dental Implants?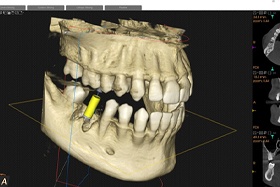 Placing dental implants in Juno Beach requires a high degree of precision. Inserting an implant at the wrong place, angle, or depth could contribute to complications, a slower healing time, and perhaps even dental implant failure. We can minimize such errors with the help of our CBCT machine. It allows us to view a patient's jaw, nerves, connective tissues, and remaining natural teeth. It therefore helps us to plan exactly where the implants should go in order for them to have the best chance of success.
The CBCT machine is also helpful after the implants have been placed. We can take scans to monitor osseointegration (how well the implant is bonding with the bone). Additionally, we may use it to diagnose any problems that might come up after a patient's surgery. Such problems are rare, but having our CBCT machine makes them easier to analyze than they would be otherwise.
What to Expect During the Scanning Process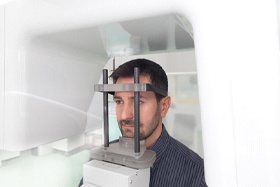 Some dentists must refer patients to another practice for CBCT scans. Fortunately, since we have a machine right here in our office, you can enjoy convenient and stress-free imaging. Once your implant dentist in Juno Beach determines that you need a scan, we might ask you to remove any jewelry or other accessories that have the potential to interfere with your results. Then, we will position you in the machine and let it do its work.
The scanning process is completely painless, and it usually takes less than one minute (the exact length of tie depends on which areas of your mouth we are scanning). Once the scan is finished, we will have immediate access to the images.
A CBCT machine uses more radiation than a normal digital X-Ray, so we only use it when absolutely necessary. However, it still uses much less radiation than a normal CT scanner that you would see in a hospital. It is quite safe for the vast majority of patients.
Would you like to learn more about our CBCT scanner or the other instruments that contribute to successful dental implant treatment? Get in touch with Juno Beach Smiles today — we will be happy to answer your questions!
Dental Implant Post-Op Instructions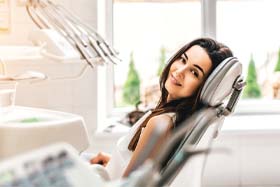 After your dental implant placement surgery, you will have to go through a recovery period, but there is no reason to be nervous about it. Most patients find that they are feeling quite normal within several days. To make sure your risk of complications is as low as possible, it is important that you adhere to some simple dental implant post-op instructions in Juno Beach. Below, you will learn more about the steps you can take to facilitate an easy recovery.
Maintaining & Caring for Your Dental Implants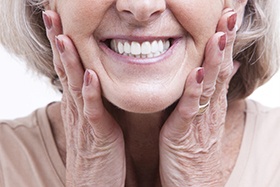 Dental implants are incredibly strong and have the potential to last for many years. However, your new smile will need a little help from you if it is going to stand the test of time. To prevent problems with your implants, it is important that you make oral hygiene a priority, shield your implants from physical trauma, and attend regular checkups in our dental office. Your diligence will drastically reduce the chances that an infection or other issues will compromise your new smile's long-term viability.
---
Dental Implant Failure & Salvage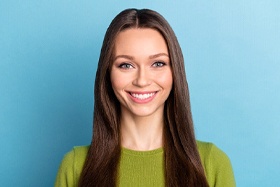 Dental implants are a consistently successful treatment — they thrive in over 95% of cases! Unfortunately, though, they do fail on occasion. If you suspect that something is amiss with your restored teeth, do not panic. Instead, call us right away. We will diagnose the issue and recommend a treatment. It is possible that we will be able to solve the problem and allow you to continue enjoying all the benefits of your implant-supported smile.
---
Joan's Story
Joan began to develop bone loss in her upper jaw when she became pregnant with her first child, and unfortunately, this continued all the way until she had to have four of her front teeth removed on her 50th birthday. After being told by another dentist that she wouldn't be able to get dental implants due to her bone loss, Dr. Riley said that she actually could get implants and enjoy a more stable, natural-looking smile. Today, Joan couldn't be happier with her dental implants and says she's glad she never has to worry about her husband seeing her without her teeth!
---
Dental Implant FAQs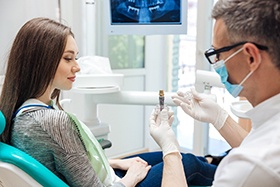 Although you have more information about dental implants in Juno Beach than before, you likely still have many questions about what you can expect once you receive your new smile. Because this is a long process and requires multiple steps to complete, our team at Juno Beach Smiles wants you to feel completely confident in your decision to choose these permanent prosthetics to replace your missing teeth. We invite you to review the answers provided below and contact us with any additional questions you might have about dental implants.
---