Root Canal – Juno Beach, FL
Save Your Tooth and Relieve Your Pain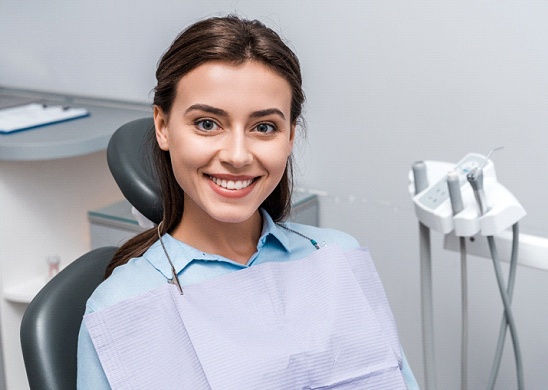 Many people are afraid of root canal therapy, which is otherwise known simply as a "root canal." However, there is no reason for you to shy away from this treatment if your dentist recommends that you undergo it. In fact, it is a comfortable procedure that could actually provide long-term pain relief and even save a damaged tooth from extraction! On this page, you will learn more about this remarkable treatment.
What Is Root Canal Therapy?
Your teeth have a few layers. The innermost layer is known as the pulp. When the pulp suffers damage or infection, you can experience severe tooth pain. During root canal therapy, we carefully access the pulp and remove the affected tissue. We also take out the tooth's nerve so it can no longer send pain signals to your brain. Once that is done, we fill in the tooth with a special material called gutta percha to help it maintain its structure. Following the procedure, we usually recommend that patients receive a crown to protect the treated tooth.
Signs You May Need Root Canal Therapy
You may need root canal therapy if you are experiencing any of the following symptoms:
You have a severe, throbbing toothache
One of your teeth has been broken
A tooth is darker in color than the ones around it
There is a pimple-like sore on your gums
A tooth is extremely sensitive to hot and cold temperatures
You experience increased pain when you touch the tooth or eat
If you suspect you need root canal therapy, it is important that you seek treatment right away. Delaying care gives the problem an opportunity to worsen. You could end up losing your tooth, and the infection might spread throughout your body and lead to systemic illness.
What to Expect with Root Canal Therapy
The first step in the procedure is to make sure you are comfortable. We will numb the part of your mouth where we will be working. Sedation is also available if you require extra help to remain relaxed. During the treatment, you should feel little to nothing.
Following root canal therapy, some soreness and swelling are normal. By being careful about what you eat and taking pain relievers, it should be fairly easy for you to manage any discomfort. Your mouth should start to feel normal again after a few days. You are always welcome to call us if you have questions or concerns during your recovery period.
Root Canal FAQs
Are you ready to learn even more about root canal therapy? We have compiled a brief list of frequently asked questions regarding this treatment. If you do not see the information you were hoping to find, get in touch with us so we can personally address any concerns or questions you might have.
Does Dental Insurance Cover Root Canal Therapy?
Most dental insurance plans do cover root canal therapy, but you will have to check the details of your specific policy to find out how it applies. Most insurers consider this treatment to be a major procedure, which means that they may cover about half of its total cost. If necessary, we can help you to apply for financing so you can manage the portion of the price that you are responsible for paying.
How Long Does Root Canal Therapy Take?
The overall appointment length for root canal therapy can vary from patient to patient. On average, the procedure takes about 90 minutes. In some cases, two appointments are necessary. When you visit us for your restorative consultation, we may be able to give you an estimate for how long your treatment will take.
Are There Any Alternative Treatments?
Some patients choose to have their tooth extracted rather than undergo root canal therapy. However, we only recommend extraction as a last resort. It is better for your oral health if you retain as many of your natural teeth as possible. An empty space in your mouth could cause the adjacent teeth to drift out of place and make it more difficult for you to chew food.
You could get your tooth extracted and choose to replace it later on. However, doing so will cost more money in the long run than opting for root canal therapy in the first place.
Can a Tooth Undergo Root Canal Therapy Multiple Times?
Initial root canal treatment has a very high success rate. (Estimates on the success rate vary, but they are generally between 85 and 97 percent.) In rare cases, a tooth must undergo a second root canal (often referred to as endodontic retreatment) to ensure that the damaged tissue inside the tooth has been completely removed.
My Tooth Doesn't Hurt, but My Dentist Says I Need a Root Canal. Why Is That?
In most instances, a severe toothache signals the need for root canal therapy. However, we sometimes recommend this treatment before an infection or damage gets bad enough to cause any pain. That is why regular checkups are so important; if we are able to catch the problem before it becomes too severe, we can ensure that your root canal treatment is as conservative as possible.