Emergency Dentistry – Juno Beach, FL
Relieve Pain & Restore Your Smile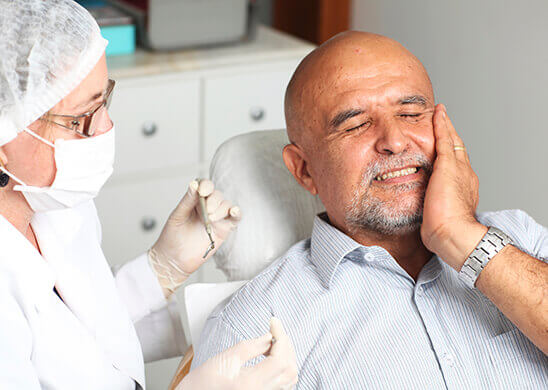 Whether you're experiencing a sudden, traumatic injury to a tooth or pain that continues building and building with no known cause, dental emergencies tend to be panicked situations that are often time-sensitive to boot. At Juno Beach Smiles, we strive to support our valued patients however we can, and that includes making every effort to see your emergency case and provide needed relief as soon as possible.
How to Handle Common Dental Emergencies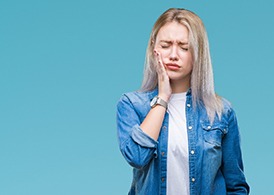 Some patients are unsure of what exactly constitutes a dental emergency. We will trust your judgment on the severity of your condition, but if you're still hesitating, here are some common situations that Dr. Greg Riley and Dr. Duane Keuning would classify as emergencies:
Toothaches
Toothaches can occur for various reasons; however, if you are in any type of pain, you should call our office and let us assess the situation. If there is something lodged between your teeth, waxed dental floss can be used to remove it. If the pain is not the result of a stuck object, it could be that there is an infection inside the tooth and will require root canal therapy to achieve relief from the pain.
Chipped/Broken Tooth
If you have a chipped or broken tooth, the best course of action is to gather the pieces and bring them with you to your appointment. Make sure to rinse out your mouth to remove any debris and try to avoid chewing on that side of your mouth. If necessary, place a small portion of dental wax over the jagged/rough edges of your tooth to prevent irritation to your soft oral tissues.
Knocked-Out Tooth
When faced with a knocked-out tooth, make sure you retrieve it by the crown and rinse it off. If you can put it back in your mouth, go ahead. If this proves unsuccessful, either place it between your cheek and gum or in a container of milk and bring it to your appointment. We will need to see you within an hour of the incident in order to save the tooth.
Lost Filling/Crown
Using a small bit of dental cement, which can be bought at your local drug store, can help to temporarily put your lost crown or filling back into place. It will be necessary for us to permanently bond it to your tooth again, so make sure to call our office and schedule an appointment. In the meantime, avoid chewing on that side of your mouth until we can reattach your restoration.
How to Prevent Dental Emergencies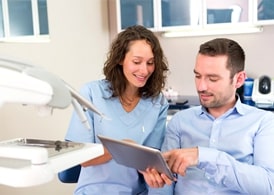 If you want to make sure that your teeth remain intact and your soft oral tissues untouched, it's always best to try and prevent dental emergencies, if possible. A few ways you can do this include:
Keeping a regular dental hygiene routine by brushing, flossing, and rinsing
Avoiding hard, crunchy foods that can break a tooth, as well as chewy, sticky foods that can pull out a filling or crown
Wearing a mouthguard while playing sports or during sleep (if prone to bruxism)
Never using your teeth to open containers or packages
The Cost of Treating Dental Emergencies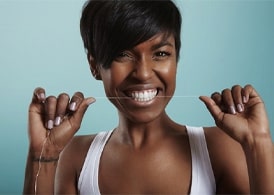 If you're unsure how much your dental emergency is going to cost, you can do one of two things: Call your dental insurance company and ask how much your out of pocket expenses will be for a particular restorative service, or you can have a member of our administrative team work on your behalf to get you the answers you need. Once you've established how much it will cost to fix your particular problem, you will be able to identify how best to pay for your dental care. If you need additional help in covering the cost of your treatment, we can explain alternative payment methods that can ease the financial strain and help you to stay on budget.
Emergency Dentistry FAQs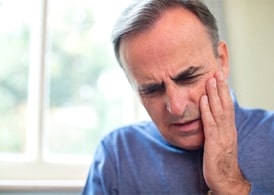 Do you have additional questions about dental emergencies but don't know where to find the answers? Your emergency dentists want you to feel confident should you suddenly experience a dental crisis, which is why they have compiled some of the most frequently asked questions for you to review.
What should I do if my face begins to swell?
The most important thing to remember is if you begin to notice serious swelling that is impacting your ability to breathe and/or swallow, get to your local emergency room as soon as possible. You will need immediate medical attention. Otherwise, if you notice some minor swelling, you can use a cold compress or ice pack and place it against the affected area for 10 minutes. After that time, remove it for 10 minutes. You can continue this process for one hour.
Not only will it encourage the swelling to go down, but it will also help to relieve any pain you might be experiencing.
If my toothache goes away on its own, should I still come in?
Just because your toothache pain goes away doesn't mean you should avoid seeing our emergency dentists. The reason is that an infection can exist deep down inside your tooth, and you may never feel any discomfort as a result. Even if you do, the pain can dissipate, but this doesn't mean the infection will suddenly clear up. As a rule, if you have a toothache not caused by a lodged object or sinus infection, call our office to set up an appointment. It's always better to let us take a look than let your situation worsen.
How do I know if I need a root canal?
The only real way to know if you need a root canal is to let Dr. Keuning and Dr. Riley examine your oral cavity. When the pulp of your tooth becomes infected, the only way to save it from possible extraction is to perform root canal therapy. This includes cleaning out the various canals to remove the infection and relieve any pain.
When should I visit the ER instead of the dentist?
There are only a few instances that should have you visiting your local emergency room instead of your dentist. These include:
Increased swelling that is affecting your ability to breathe and/or swallow
Continuous bleeding from the mouth
Severe facial trauma (i.e. broken/fractured jaw)
If dealing with any other type of dental emergency, our team is trained and equipped to handle your problem. We won't only treat your symptoms, but we will provide start-to-finish treatment so that you can get back to your normal activities as soon as possible.
Dental emergencies aren't an enjoyable experience, but our dedicated team will always be sure to treat you to a five-star experience as we help you recover here in our welcoming, beachfront dental office. Contact our Juno Beach, FL location today to schedule a visit with Dr. Keuning and Dr. Riley, or if you have any questions, we can help you with.