Porcelain Veneers – Juno Beach, FL
Transform Your Smile With High Quality Dental Ceramics!
Porcelain veneers can create an almost instant smile makeover. These strong and incredibly natural-looking cosmetic dental restorations can beautify and brighten your smile, as well as dramatically enhance your overall appearance. That's why people have been turning to porcelain veneers to fix a variety of smile problems ever since they were first created for Hollywood actors.
If you're ready to get the smile of your dreams, don't hesitate to contact either Dr. Greg Riley or Dr. Duane Keuning to request an appointment!
What are Porcelain Veneers?
Porcelain veneers are wafer-thin sheaths designed to sit flush on top of teeth. After buffing down a very minimal amount of enamel to make room for them, veneers become part of your new smile and are capable of withstanding the daily wear and tear your current teeth experience.
Because dental veneers are hand-crafted out of porcelain, they look natural – porcelain is chosen because it most resembles tooth enamel. Your cosmetic dentist will assess your smile to determine the optimum shape and size of your porcelain veneers before sending the information to a high quality dental lab to be created just for you. We give you the personalized touch during every treatment you receive at Juno Beach Smiles.
What Can They Correct?
Is your smile suffering from multiple cosmetic problems? If so, you might want to consider porcelain veneers as a solution. Because these shells of porcelain cover your natural teeth, they simply erase the appearance of issues, including:
Cracks
Chips
Breaks
Discolorations
Crookedness
Gaps
Who is a Candidate for Porcelain Veneers?
If you've tried previous cosmetic treatments that weren't as durable or didn't quite whiten your teeth enough to meet your standards, porcelain veneers are a great step in the right direction. However, it's important to note that you must have proper oral health before pursuing any cosmetic treatment, meaning any decay or gum disease will need to be treated first.
Furthermore, you'd choose porcelain veneers when you need a comprehensive smile solution that's durable, strong, and provides pleasing results. You choose Juno Beach Smiles because we've built a reputation for crafting excellent smile makeover results.
What are the Benefits?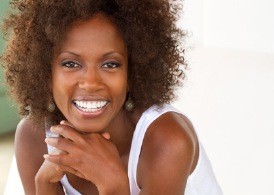 When you transform your smile with porcelain veneers, you're getting:
A quick solution to cosmetic imperfections (veneers only require two appointments to place)
Additional stain resistance to foods (veneers are not as porous as tooth enamel)
The ability to solve multiple imperfections simultaneously with a single treatment method
A more attractive smile for many years to come
How Long Do They Last?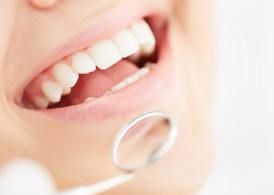 The lifespan of porcelain veneers can vary depending on how regularly the person practices proper oral care. If the veneers become damaged, either from an injury, using your teeth as a tool, or chewing foods that can damage porcelain (i.e. ice or hard candy), then they are more likely to scratch. This makes them more susceptible to staining in the long-term.
With that being said, veneers tend to last between 10 and 15 years before needing replacement. In some cases, veneers can last as long as 20 years if you're more conscious of your oral health.
How Do I Take Care of Them?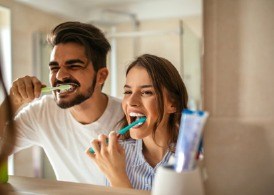 To make your porcelain veneers last, make sure to brush them twice a day with a nonabrasive, fluoridated toothpaste for at least two minutes each session. Floss them daily to remove plaque from the edges of your teeth. Discontinue habits that may damage them, such as nail-biting or chewing on the backs of pens. If you have an unconscious teeth clenching/grinding problem, we can fabricate a custom-made nightguard for you to prevent your veneers from cracking or breaking while you sleep.
If you want to learn more about what porcelain veneers can do for your smile, contact our cosmetic dentist in Juno Beach! Let us create a smile for you that will really knock people out.
Understanding the Cost of Veneers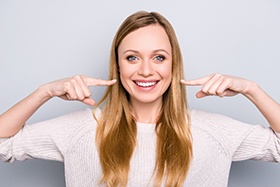 It's important to remember that you get what you pay for when it comes to cosmetic dentistry. For that reason, it's worth making an investment in your smile from the get-go, especially if you want something that's natural-looking and long-lasting. If you'd like to see how veneers compare to other cosmetic treatments, continue reading or give our office a call today! We're ready to help you feel confident about your future grin.
Cost vs. Cosmetic Dentistry: What's Right for Me?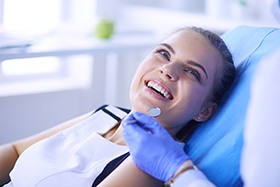 Even though veneers are one of the most versatile cosmetic treatments, they're not necessary to resolve certain dental issues. For example, problems like stains, cracks, chips, gaps, and misalignment can all be addressed with different services. Below, you can learn about the pros and cons of a few popular treatments we offer:
Dental Bonding – This option is the cheapest one we offer and has the ability to address minor stains, chips, and cracks. It involves the use of the same composite resin material as tooth-colored fillings. However, you should keep in mind that this treatment will need to be redone every few years to ensure your results stay in tip-top shape.
Teeth Whitening – If you want to change the color of your smile, teeth whitening is one of the quickest and most inexpensive ways to do just that. Best of all, you can complete treatment in-office or at home on your own time. It's worth noting that this service can only address tooth color – not the shape or position. You'll also need to get touch-ups every couple of years or so depending on your day-to-day habits.
Invisalign – The clear aligners are effective at correcting gaps, rotated teeth, misalignment, crowding, and uneven bites. Of course, this treatment is not cheap. It can be a significant investment for something that's unable to address the color and shape of your smile.
Veneers – While this may be the most costly option, it's the only one capable of transforming several different aspects of your smile at once. In just a few short appointments, you can have a stunning new grin! You can expect to enjoy your results for well over a decade with proper care and maintenance.
How to Make Veneers Affordable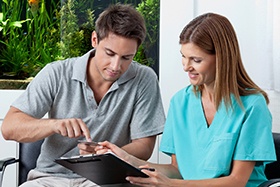 Since veneers are a form of cosmetic dentistry, they're typically not covered by dental insurance. Fortunately, there are other ways to make your smile transformation more affordable. At Juno Beach Smiles, we offer the following:
In-House Savings Plan – For one low annual or monthly fee, you can get all the preventive dental care you need and get access to sizeable discounts on many of our dental services. This plan allows you to enjoy the benefits of traditional dental insurance without the hassle that comes with it.
CareCredit Financing – With this option, you can split up the cost of your entire treatment into smaller, budget-friendly monthly installments. Plus, there's often little-to-no interest attached to these payment plans.
Special Offers – Right now, we have a limited-time offer of $1,000 off your smile makeover. Make sure you check our website monthly to stay up to date on the latest deals.
---
Randi's Story
"He really is a miracle worker."
That's how Randi describes what Dr. Riley was able to do for her. Randi had multiple teeth with small cracks, and Dr. Riley told her that those cracks would likely grow and might require her to undergo multiple root canals to fix. He kept an eye on her teeth and eventually restored them with porcelain veneers, and Randi couldn't be happier with the results. She says she loves how beautiful and natural her teeth look, and they fill her with confidence every day.
---
Heather's Story
"Dr. Keuning is an artist."
Heather Augustine and her entire family are patients at Juno Beach Smiles, which includes her husband Matt, their 16-year-old daughter, 13-year-old twins, as well as Matt's parents. She was interested in getting some cosmetic dentistry, but she was afraid that the results would look overdone and unnatural. Dr. Keuning put those fears to rest and was able to dramatically improve her smile using just two porcelain veneers, each one designed with small imperfections to give them a more realistic appearance.
---
Kelly's Story

"It was the easiest thing I've ever done!"
Admittedly, Kelly had neglected to take care of her teeth for a long time, and she was starting to become very self-conscious about them. She really cares about her appearance, and having a smile that's less than perfect just wouldn't do! Kelly eventually met with Dr. Riley and decided that porcelain veneers would help her achieve a smile that made her feel completely confident from head to toe. If you need any inspiration to cosmetically enhance your teeth, Kelly has enough energy for everyone!
---
Porcelain Veneers FAQs
Veneers in Juno Beach can create remarkable smile transformations. Before you commit to them, however, you may want to learn more about the treatment and what you can expect from it. That is why we have compiled the following brief list of porcelain veneer FAQs. If you do not find the information you were hoping for, a member of our friendly team will be happy to personally assist you.
How Many Porcelain Veneers Can I Get?
Some patients choose to get just one or two veneers in order to disguise the teeth whose appearance most bothers them. Other patients opt for a full set of 4 – 8 veneers to effect a total smile transformation. While veneers are usually placed only on the top teeth, it is also possible to place them on the bottom teeth.
How Much Do Porcelain Veneers Cost?
The cost of your treatment will depend mostly on how many porcelain veneers you receive. When you visit us for your consultation, our team will provide you with a personalized estimate and help you explore your payment options.
How Will Smoking or Grinding My Teeth Affect My Veneers?
Smoking cannot stain your veneers like it can stain natural teeth. However, it can stain the bonding agent that we use to attach veneers to the teeth, which can cause your smile to take on a yellowish or dark appearance.
The continual pressure from teeth grinding can cause damage to porcelain veneers. If you grind your teeth, we may recommend that you use a nightguard to protect both your natural teeth and the results of your cosmetic treatment.
How Do Porcelain Veneers Compare to Dental Bonding and Crowns?
Dental bonding uses a composite resin to disguise flaws in teeth. At first, its results can look very similar to porcelain veneers. However, bonding tends to be less durable and more prone to stains.
Crowns are quite different. They are designed to cover the entire portion of a tooth that is above the gumline, rather than just its outward-facing side. They can have outstanding cosmetic advantages, but we usually only recommend them for patients who have weakened teeth that require protection, and not for patients whose primary goal is to improve their smile's aesthetics.
What Color Will My Veneers Be?
Porcelain veneers are available in a wide range of shades. If you are getting just one or two veneers, your cosmetic dentist in Juno Beach will make sure they blend in with the surrounding dentition. If you are covering all of your front teeth with veneers, the color will depend on factors like your age and your personal preference. Some patients crave a brilliant, bright-white smile, while others want their veneers to have a softer, subtler appearance.