Truly Comprehensive Services
One of the best parts about being a patient at Juno Beach Smiles is that when you partner with us, you'll be able to get everything you need in one convenient location. In addition to basic services like checkups, cleanings, fillings, and crowns, we're able to provide more advanced treatments like dental implants for our Jupiter patients, periodontal therapy, Invisalign, and sedation dentistry to take care of those pesky dental nerves. We're also very well known for our cosmetic dentistry (watch our testimonials to see for yourself!). Whether you simply want to whiten your teeth or get a complete smile makeover, Dr. Riley and Dr. Keuning have the skill and artistic eye to personalize your treatment so your results are guaranteed to be beautiful, natural-looking, and last for decades.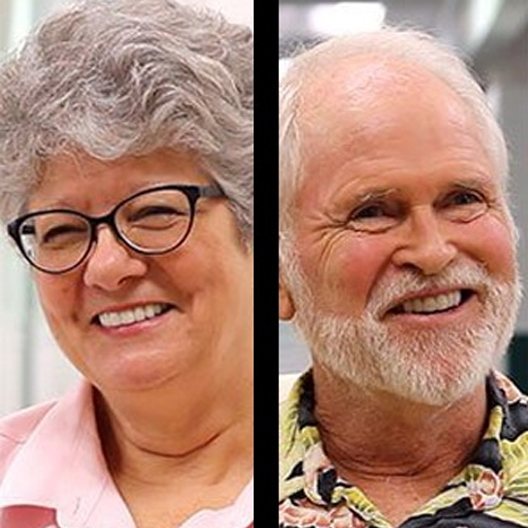 Light Up the World
with Every Smile
At Juno Beach Smiles, we strive to give our patients one simple thing, and that's everything. Our flexible hours make it easy to schedule appointments, we provide a wide variety of services so you only have to visit one place for all your needs, and our customer service is on par with the many 5-star hotels and resorts in our area. Located just 10 minutes south of Jupiter via a beautiful drive along the coast, we're eager to welcome new patients from the community so we can improve even more people's health and appearance. Read on below to learn why many already consider us the best dentist near Jupiter!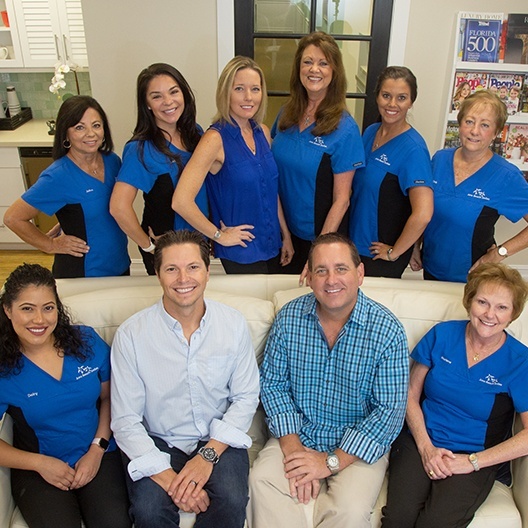 Concierge-Level Service
A concierge's job is to make your life easier, and that's exactly what our team does when it comes to your dental care. Just give us a call ahead of your visit and tell us about anything we could do to make your experience more pleasurable. Do you dislike the sounds of dental instruments? Do certain scents help you feel calm and centered? Need help paying for your care because you don't have insurance? Please let our team know how we could improve your time with us, and we'll make it happen—this is dentistry designed just for you!
Your Experienced
& Passionate Dentists
On paper, Dr. Greg Riley and Dr. Duane Keuning have absolutely everything you'd want for your dentist near Jupiter: decades of experience, multiple degrees from prestigious institutions, and countless hours of continuing education that ensure their techniques and technology are always up to date. But once you meet them in person, that's when you'll see how special they really are. They'll take the time other dentists won't to get to know you beyond your teeth so they can fully tailor your experience to make it as fulfilling and smooth as possible.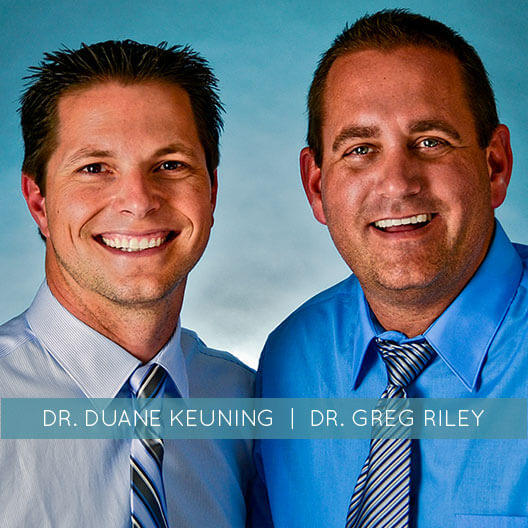 Hear From One of Our Many Satisfied Patients
A Jupiter resident for many decades, Ruthye came to see us because she was experiencing some instability and pain associated with her implant denture. She was constantly worried her teeth were going to randomly fall out! In addition to giving her a smile she could rely on, Dr. Keuning made sure that Ruthye's treatment process was 100% painless, and as you'll see in her testimonial, she couldn't be happier with the results and overall experience.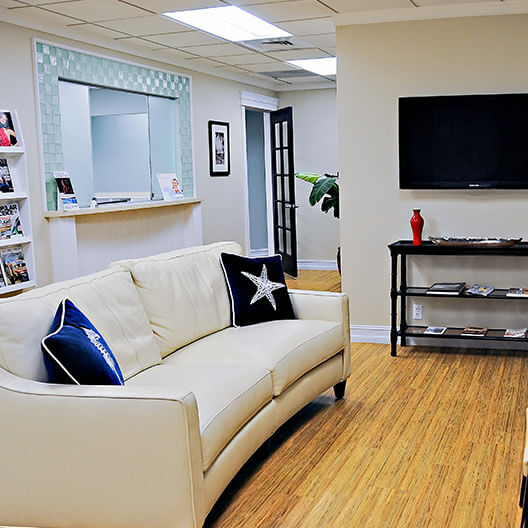 Your comfort
comes first
Starting with our location less than a stone's throw from the Atlantic Ocean, we are unlike most dental offices. Immediately, you will notice a cool, oceanfront vibe that feels more like a spa than a dental office. Always greeted by name, you will receive the "little extras" that help you relax and release any worries. We will pamper you with iPads, movies, noise-canceling headphones, and lemon-scented towels while ensuring we always respect the value of your time and importance of your happiness. We will make it easy to smile.
How to Find Us From Jupiter
To get to Juno Beach Smiles from Jupiter, all you need to do is hop on US-1 S for about 10 minutes. Once you pass Mars Way, you'll be able to make a U-turn, and our practice will be on your right. Juno Beach is a beautiful town, and there are plenty of places to sit back, relax, and enjoy the gorgeous scenery whenever you come down for an appointment. Nearby, you'll find Loxahatchee River Battlefield Park, the PGA National Golf Club, Grassy Waters Preserve, Peanut Island, and the Loggerhead Marinelife Center.