Cosmetic Dentistry – Juno Beach, FL
Your Cosmetic Dentist at Juno Beach Smiles Delivers Flawless Results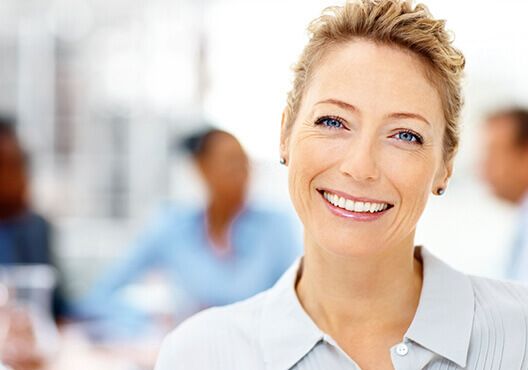 The dictionary defines a smile as "a facial expression indicating pleasure, favor, or amusement, but sometimes derision or scorn, characterized by an upturning of the corners of the mouth." You can say so much with a smile, but your smile says so much about you as well. If your smile is bright, white, straight, and whole, it conveys good health and that youthful appeal everyone is searching for. If it's discolored, chipped, cracked, or crooked, it can be impossible to want to smile under any circumstances. That's why Drs. Riley and Keuning of Juno Beach Smiles take such great pleasure in providing cosmetic dentistry services to patients from Juno Beach and surrounding Florida communities. They get to see you smile with pride and self-confidence, even if you've suffered with a less-than-perfect smile for years.
---
Featured Cosmetic Dentistry Services
Porcelain Veneers
Patients looking for a quick, comfortable way to transform their smiles may want to consider porcelain veneers. These thin sheaths of dental grade porcelain can effectively correct and conceal a variety of cosmetic flaws including chips, cracks, gaps, stains, and crooked teeth. Sometimes referred to as instant orthodontics, porcelain veneers are a great option for patients looking to enhance their smile with minimal impact on their schedule, budget, and oral health.
Metal-Free Dental Restorations
Here in Juno Beach, we don't believe in asking patients to choose between pursuing restorative care or maintaining their beautiful, natural appearance. Instead, Dr. Keuning and Dr. Riley are proud to give you the best of both worlds by offering several state-of-the-art materials that are durable, metal-free, and seamlessly lifelike. After an informative consultation and discussion of your personal smile goals, we will recommend the option we believe will fit your needs best, whether it's Empress, E-max, custom ceramic, or zirconia.
In addition to their seamless appearance, metal-free restorations also offer needed durability and reduced oral irritation for our patients. Their biocompatible nature is ideal for patients who've struggled with sensitivities or outright allergies to common dental metals in the past. If you've been struggling with one or more teeth that aren't at their very best, don't hesitate any longer – allow our doctors to design the ideal restoration that improves both your smile and your life.
Dental Bonding
Our doctors often recommend direct bonding for patients with minor aesthetic imperfections who are in need of fast results. The procedure is simple and comfortable – we apply the shaded composite resin to the area in question and precisely sculpt it into the desired shape, correcting stains, chips, uneven tooth structure, small gaps, and more in a way that makes it difficult to discern whether or not there was ever a problem at all. With proper maintenance, the improvements you achieve through direct bonding can last for several years.
Learn More About Direct Bonding
Teeth Whitening
The desire to have whiter, brighter teeth is nothing new. For decades patients have been bombarded with advertisements for whitening toothpastes, mouthwashes, strips, and gels. Unfortunately, these products are not often able to deliver the desired results. Professional teeth whitening solutions are different. Our experienced dentists are able to use stronger doses of the active whitening agent (carbamide or hydrogen peroxide) and more effective application techniques to deliver predictable results up to ten shade brighter for most patients.
Laser Gum Recontouring
Have you ever thought about how the shape of your gum line affects the appearance of your teeth? Some patients come to us complaining that their teeth look "stubby" or uneven. In most of these cases, the problem isn't the teeth at all. It's the gums. That's why we offer cosmetic gum recontouring using a soft tissue laser. The laser allows us to remove or reshape the gums while simultaneously cauterizing the treated area to minimize bleeding and discomfort during care and reduce healing time following the procedure.
Invisalign®
To get straighter smiles, patients used to need extensive treatment using uncomfortable and unattractive metal brackets and wires. If that wasn't bad enough, traditional braces all caused patients to change their diets and oral hygiene routines throughout treatment. The Invisalign alignment tray orthodontic system allows the patient to achieve the desired results in less time, fewer trips to the dental office, and without changing their diet or at-home care routine. The comfortable, invisible clear plastic alignment trays place gentle pressure on teeth, shifting them into their ideal alignment, and they're removable, allowing patients to eat and drink the food they like and clean their teeth as usual.
ClearCorrect
Patients interested in straightening their smiles without spending years with metal brackets and wires, frequent orthodontist trips, and limited diets, may want to consider the ClearCorrect orthodontic system. Using a series of clear, plastic alignment trays, ClearCorrect gently shifts teeth into their ideal alignment in less time, fewer dental office visits, and reduced hassle. Simply wear each set of invisible, removable aligners for about two weeks, remove aligners during meals and while brushing and flossing, and exchange for the next set in the series. It's simple, comfortable, and convenient.
Smile Makeovers
If you want to make some changes to your smile but you're not sure where to begin, we invite you to contact our team to schedule a smile makeover consultation. Our smile makeovers are personalized treatment plans that combine any number of cosmetic and restorative services to completely transform flawed teeth to flawless smiles. We even encourage patients to bring along photos of smiles they admire to their initial consultation as we can use these in the design process.
Botox®
At Juno Beach Smiles, we care about much more than just the state of your smile – our goal is to improve your quality of life and your self-confidence through the personalized services we provide. With Botox®, patients can receive the perfect complement to their cosmetic dental work, achieving a smoother, more youthful facial appearance in just a handful of minutes. The treatment will reduce the muscle activity that causes noticeable lines to form on the forehead and between the brows. In addition to its clear aesthetic benefits, Botox® may also be recommended as worthwhile TMJ therapy.
Juvederm/Dermal Fillers
As we age, the volume of the tissue supporting our skin diminishes leading to creases or wrinkles, and this is a common complaint of patients who have deep smile lines that resemble parentheses on either side of their mouths. For these patients, we may recommend treatment with Juvederm dermal fillers. The Juvederm material is injected below the skin and shaped to restore full, youthful volume to patients' faces. The process is quick and painless, and most patients are able to complete the procedure on their lunch break.
Using these various cosmetic dental care procedures, we can create a smile makeover plan just for you. Dr. Riley and Dr. Keuning are experienced cosmetic dentists who understand how to customize each procedure exactly to fit your needs. With a few visits to Juno Beach Smiles, you can have a smile that tells the world how wonderful you are every time you show it off.
A more beautiful smile is just a phone call away – contact our Juno Beach cosmetic dentistry practice for a consultation with Dr. Riley or Dr. Keuning today. If you're searching for the smile of your dreams, look no further than Juno Beach Smiles.
Learn More About Juvederm Demal Fillers
---
Smile PreVu Software
Would you like to see your smile's future? That is possible thanks to our advanced PreVu software. We will simply take a few photos of you smiling, upload the photos into our computer system, and use the software to give you a realistic idea of what you would look like after a specific cosmetic treatment., such as teeth whitening or porcelain veneers. Then, you will be able to commit to your smile makeover with total confidence that you will love the results.
Understanding the Cost of Cosmetic Dentistry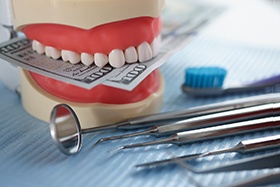 You may think cosmetic dental work exceeds your budget. After all, insurance plans often won't cover the field's treatments. In truth, though, Juno Beach Smiles will help you navigate the costs of cosmetic dentistry. A beautiful smile is priceless, so we'll make our care fit your financial needs. With that in mind, here's a list of our different cosmetic procedures and ways to make them affordable. Please read them over to see how prettier teeth can be budget-friendly. Otherwise, call our office for more financial details!
Which Cosmetic Dental Service is Right for Me?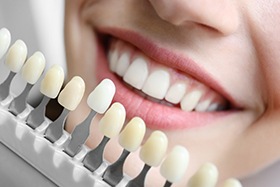 With cosmetic dentistry, most patients try to get one (or more) of three things: whiter teeth, straighter teeth, or differently shaped teeth. That said, aesthetic procedures focus more on some of these effects than others. It's thus a good idea to compare these services' features and prices. For instance, our own office's cosmetic treatments include:
Dental Bonding – Bonding uses tooth-colored resin to hide smile flaws, so it's great for making small changes and reshaping damaged teeth. The option is also the cheapest one of the bunch. Know, however, that bonding's effects are rather short-lived.
Teeth Whitening – At only a mid-tier cost, whitening can quickly brighten your smile and remove tooth stains. Still, it won't do anything to change tooth shape or position.
Porcelain Veneers – While costly, veneers can simultaneously transform multiple aspects of one's smile. Better yet, they last over a decade if cared for properly.
Clear Aligners – Invisalign and ClearCorrect can make a big difference with misaligned teeth. This effect comes at a high price, though, both in time and money.
Smile Makeover – A smile makeover combines several services, so it's easily the most expensive of the options. Even so, this choice is also the easiest, most comprehensive way to get desired results in the best possible timeframe.
Cosmetic Dentistry is a Worthwhile Investment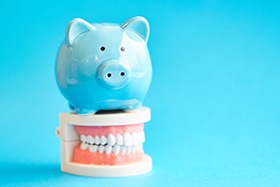 While cosmetic dentistry may feel like a big commitment, it's also an investment that pays off over time. Depending on the procedure, it can give you priceless boosts in confidence and self-esteem. These improvements, in turn, result in better socializing with friends, family, and even dates. Considering such effects, you can count on cosmetic dental work to raise your quality of life!
How to Make Cosmetic Dentistry Affordable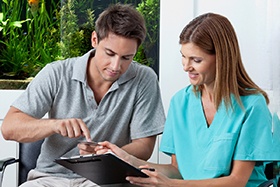 As said before, purely cosmetic dentistry isn't covered by dental insurance. Other ways exist, though, to make its services more affordable. As an example, look at Juno Beach Smiles. Our practice has:
Special Offers – Currently, our office is running a special on smile makeovers. You can use it to get $1,000 off of treatment!
In-House Savings Plans – In exchange for a low monthly (or yearly) fee, our office fully covers preventive care. It also gives you a 10% discount on all other services.
Flexible Financing – We offer flexible financing through CareCredit. As such, patients can pay for our cosmetic services with care in monthly, low-interest installments. You'd thus be able to cover the cost over time instead of all at once.
As you can see, Juno Beach Smiles is ready to give you a pretty yet budget-friendly smile. So, why are you waiting? Book a consultation visit with our team in the coming days!