Meet Our Juno Beach Team
Deb, Office Manager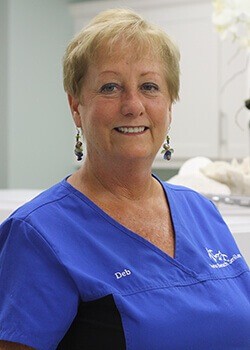 I have been with Juno Beach Smiles since the beginning. My husband Mark and I opened the practice in 1983. Over the years, I have worn many hats, but my greatest pleasure has been participating in the amazing "evolution" of the practice. I find joy every day in witnessing the lives that are enhances through our beautiful dentistry. Juno Beach Smiles is a fun and pleasant place to spend time! We love our family of patients and they love us back.
As office manager, it's my honor to keep both staff and doctors on top of all things "Juno Beach Smiles!"
Jo Ann, Treatment/Patient Coordinator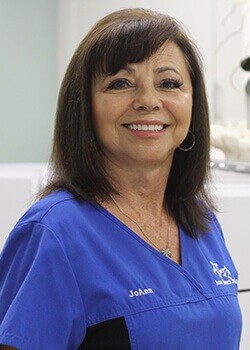 I have been in dentistry for 36 years and have been working at Juno Beach Smiles for almost 17 years. It's a joy coming to work in such a positive environment! As a patient coordinator, it's rewarding helping patients obtain a beautiful, healthy smile that improves their looks, gives them self-confidence, and changes their lives.
Maddy, Reception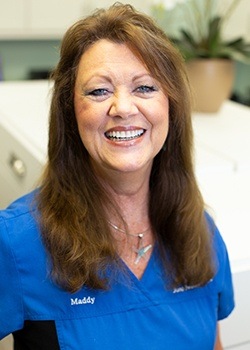 I have had the pleasure of being in dentistry for over 40 years, and I have seen and learned a lot about how excellent dentistry can change and enhance a person's life! I consider myself blessed to be a part of such a wonderful practice with a highly professional and well-trained team. I always look forward to welcoming new patients to our dental family and giving them information about the wonderful things I have seen our awesome doctors and team accomplish over my 10 years here. I strive to always do my utmost to make every patient feel welcome, comfortable, and happy to be here, and I accommodate any of their needs to the best of my abilities. I love being a part of this great practice and seeing our patients coming in and going out with happy and confident smiles.
Megan, Registered Dental Hygienist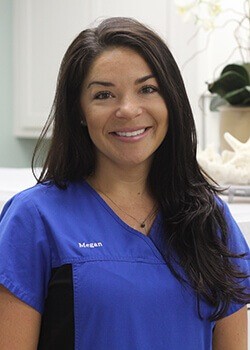 I have been with Juno Beach Smiles since moving to Jupiter in July of 2013. I earned my Associates of Applied Science Degree in Dental Hygiene from Pensacola State College, and my favorite part of being a hygienist is the opportunity to interact with my patients and get to know them while also providing quality dental care and education.
When I'm not at Juno Beach Smiles, I am enjoying spending time with friends and family and trying to be out on the water as much as possible. I knew Jupiter would be a great place to live and raise my kids, but I didn't expect to also find my forever dental home and family, and I feel honored to be a part of such a great office and team!
Roxann, Registered Dental Hygienist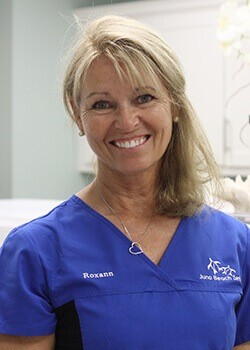 I grew up on my family's large dairy farm in Shelburne, Vermont, which is located near several ski areas. In addition to our dairy business, we raised and training horses for show jumping. I was a competitor in the show ring since I was five years old, and it's a pastime that I still enjoy when the opportunity arises. After graduating from UVM, I started my career in dentistry in Burlington.
I left Vermont four years ago in search of my next great adventure, and luckily everything clicked into place. It seemed that I was destined to live, laugh, and work in sunny Florida. I've had a long and diverse history as a dental hygienist, and I've been fortunate to always work with dentists who are skilled practitioners and students of their profession, which has motivated me to take advantage of educational opportunities to expand my technical and interpersonal skills. These skills translate to better treatment, diagnosis, and care for my patients.
I am very fortunate to be continuing my career with Juno Beach Smiles, an exceptionally talented, progressive, and caring family of dental professionals. At this group practice, the patient's needs and comfort come first.
Although I have changed my address from Vermont to Florida, switched sports from horse jumping to golf, and traded in my ski boots for flip flops, I have not changed my philosophy. I will always greet you with a smile and a positive attitude, listen to your concerns, and help you attain better dental oral health. When you leave, your smile will be bigger and brighter!
Emma, Dental Assistant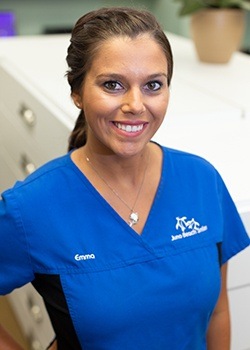 After completing my internship at Juno Beach Smiles for my EFDA certification, I knew there wasn't any other office or team I would want to work for. Dr. Riley and Dr. Keuning's knowledge and connections with their patients are not only exceptional, but world-class. I joined the practice of February of 2016, and I have not only made friends of patients, but also become as close as family with the team. I have assisted on a few life-changing cases that now have me hooked on being a dental assistant. I walk into work with a smile on my face every day because not only do I love what I do, but I know that I am going to change or enhance someone's smile (and therefore their life) each day as well! When you work for such an incredible office, work no longer feels like a job – it's more like a second home.
Outside of dental assisting, I enjoy spending time outside, taking advantage of Florida's nature and what it has to offer, spending my weekends fishing on the water, and riding trails in the woods.
Marlene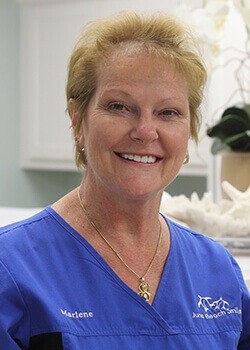 Hi! I'm Marlene and I am so proud to say that I have been in the dental field for 35 years. My time at Juno Beach Smiles has been my best experience of all. The last 20 years at Juno Beach Smiles, I have been enhancing and changing people's lives by giving them the perfect smile. The only smile better than the one you get at Juno Beach Smiles is the one I get seeing you showing off what we do! My experience with Dr. Greg Riley and Dr. Duane Keuning, combined with countless seminars, has helped make up a team of truly skilled professionals.
I am married with two wonderful sons named Matthew and Cory. My husband is self-employed and a retired 30 year veteran of Vietnam and Iraq Freedom.
Mandy, Dental Assistant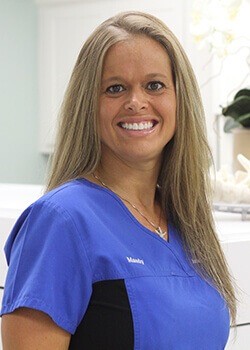 When someone asks me the question "What do you do for a living?" I respond with "I change lives for a living!" I have been a part of the Juno Beach Smiles team as a dental assistant for over 14 years! I love assisting both Dr. Riley and Dr. Keuning with creating beautiful, life-changing smiles.
I was a massage therapist before becoming a dental assistant, and my knowledge and practice of massage has been very helpful in the dental field. I have found that our patients love a little neck, shoulder, and jaw massage after a lengthy dental procedure.
When I'm not assisting with creating beautiful smiles, I I love Spinning® and spending time with my 10 year old son.