Dental Team - Juno Beach, FL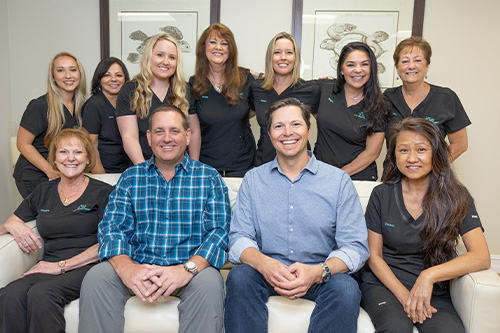 Dental Office Manager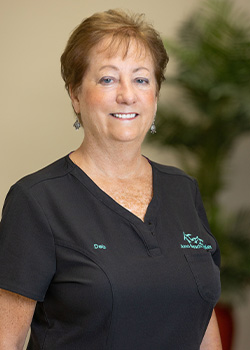 Deb
I have been with Juno Beach Smiles since the beginning. My husband Mark and I opened the dental office in 1983. Over the years, I have worn many hats, but my greatest pleasure has been participating in the amazing "evolution" of the dental office. I find joy every day in witnessing the lives that are enhanced through our beautiful dentistry. Juno Beach Smiles is a fun and pleasant place to spend time! We love our family of patients and they love us back.
As office manager, it's my honor to keep both staff and doctors on top of all things "Juno Beach Smiles!"
Dental Treatment Coordinator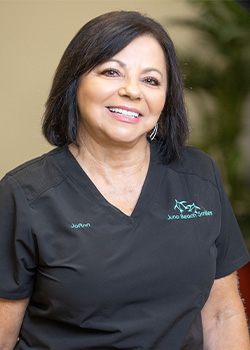 Jo Ann
I have been in dentistry for 36 years and have been working at Juno Beach Smiles for almost 21 years. It's a joy coming to work in such a positive environment! As a patient coordinator, it's rewarding helping patients obtain a beautiful, healthy smile that improves their looks, gives them self-confidence, and changes their lives.
Dental Reception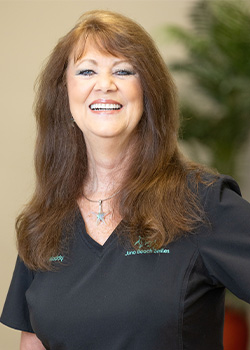 Maddy
I have had the pleasure of being in dentistry for over 40 years, and I have seen and learned a lot about how excellent dentistry can change and enhance a person's life! I consider myself blessed to be a part of such a wonderful dental office with a highly professional and well-trained team. I always look forward to welcoming new patients to our dental family and giving them information about the wonderful things I have seen our awesome doctors and team accomplish over my 10 years here. I strive to always do my utmost to make every patient feel welcome, comfortable, and happy to be here, and I accommodate any of their needs to the best of my abilities. I love being a part of this great dental office and seeing our patients coming in and going out with happy and confident smiles.
Registered Dental Hygienist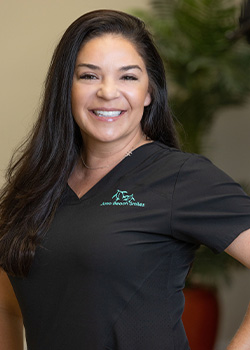 Megan
I have been with Juno Beach Smiles since moving to Jupiter in July of 2013. I earned my Associates of Applied Science Degree in Dental Hygiene from Pensacola State College, and my favorite part of being a hygienist is the opportunity to interact with my patients and get to know them while also providing quality dental care and education.
When I'm not at Juno Beach Smiles, I am enjoying spending time with friends and family and trying to be out on the water as much as possible. I knew Jupiter would be a great place to live and raise my kids, but I didn't expect to also find my forever dental home and family, and I feel honored to be a part of such a great dental office and team!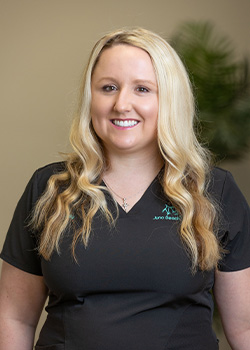 Kelly
I started with Juno Beach Smiles in June 2020. My career in dentistry started back in 2012 as a dental assistant and I continued my education and graduated with my dental hygiene license in 2019.
Outside of the office I enjoy boating and spending time with my boyfriend and my two dogs, Bella and Zuri. I'm a foodie, so I love trying new restaurants! I am a Floridian, born and raised in beautiful Jupiter, FL.
Registered Dental Assistant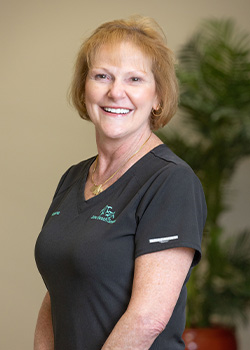 Marlene
Hi! I'm Marlene and I am so proud to say that I have been in the dental field for 35 years. My time at Juno Beach Smiles has been my best experience of all. The last 20 years at Juno Beach Smiles, I have been enhancing and changing people's lives by giving them the perfect smile. The only smile better than the one you get at Juno Beach Smiles is the one I get seeing you showing off what we do! My experience with Dr. Greg Riley and Dr. Duane Keuning, combined with countless seminars, has helped make up a team of truly skilled professionals.
I am married with two wonderful sons named Matthew and Cory. My husband is self-employed and a retired 30 year veteran of Vietnam and Iraq Freedom.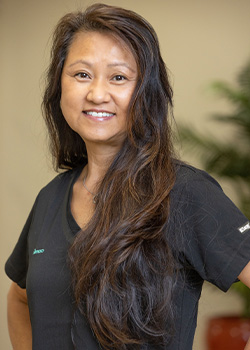 Teresa
Hey there! My name is Teresa, and I am a certified dental assistant with more than 25 years of experience in the world of dentistry. Originally from Massachusetts, I attended Framingham State and Bunker Hill Community College. For me, seeing people achieve the beautiful smile they've always strived for is the most rewarding part of my job.
Away from the office, you'll most likely find me spending time with friends and family. I also love to dance!
Registered Dental Hygienist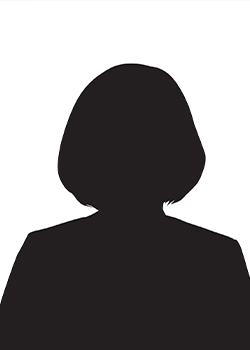 Nancy
Coming Soon
Registered Dental Hygienist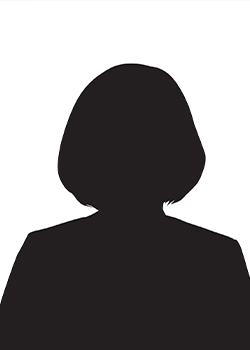 Cheryl
Coming Soon
Registered Dental Hygienist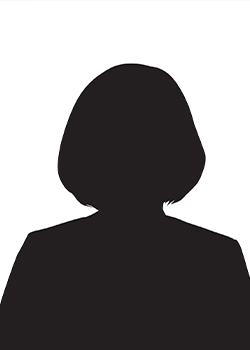 Susan
Coming Soon