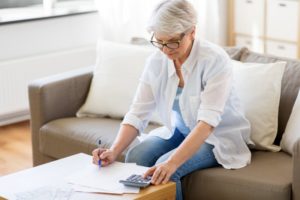 Did you lose your employer-provided dental insurance when you retired? While you'll be able to benefit from Medicare, you may not have coverage for all the dental services you need or want. So how can you keep your smile looking and feeling its best? With an in-house dental savings plan! Read on to find out how in-house dental savings plans can save seniors money on their oral healthcare costs.
How Oral Health Changes As We Grow Older
Every stage of life comes with different oral health concerns. For example, kids are at a higher risk of cavities because baby teeth have thin enamel, while young adults may need orthodontic work or wisdom teeth removed. Seniors also face a unique set of dental issues as they get older, including:
Worn-down enamel: After years of eating, drinking, talking, stress, and a variety of other factors, the enamel on the teeth begins to wear down. Since this protective shell doesn't grow back naturally on its own, you'll be at a higher risk of tooth discoloration, cavities, tooth sensitivity, and chipped enamel as time goes by.
Gum disease: Mobility can become an issue with age, which can sometimes make keeping up a thorough at-home oral hygiene routine difficult. As a result, plaque and bacteria are more likely to accumulate, attack the gums, and lead to an infection called gum disease.
Tooth loss: The normal adult mouth has 32 permanent teeth, but studies suggest that patients over the age of 65 have an average of 19 teeth, and over a quarter of them have no natural teeth at all! From worn enamel, damaged teeth, gum disease, bad habits, and many other factors, there are plenty of reasons why seniors are at a higher risk of tooth loss.
Keep Your Smile Healthy with an In-House Dental Savings Plan
While Medicare provides relatively good coverage for health issues, they offer little to no dental coverage. Not only will you need to shop around and find a plan that best suits your needs and budget, but you'll also need to worry about deductibles, maximums, and other limitations. Thankfully, an in-house dental savings plan can make it easy and affordable to get the specialized care you need.
These plans work similarly to dental insurance, except they can only be used at the dental office you've purchased it from. You'll pay a flat fee every month or year (depending on your plan) and instantly have access to a variety of important services. Oftentimes, you'll get 2 free checkups and cleanings a year, a free emergency exam, and discounts on treatments like fillings, gum disease therapy, and dentures. Plus, you'll likely get discounts on services that dental insurance doesn't typically cover, like teeth whitening and dental implants! You won't have to worry about any confusing jargon or frustrating restrictions. In-house dental savings plans cut through the red tape to make keeping your smile healthy easy.
No matter how old you are, maintaining good oral health is essential for your wellbeing and quality of life. Talk to your dentist today about their in-house dental savings plan and discover how it can help you save money on your smile!
About the Practice
Our talented team here at Juno Beach Smiles is proud to offer high-quality dental care for smiles of all ages. Our wide range of services includes everything from fillings to dental implants to help keep your oral health in tip-top shape well into your golden years. We're also happy to offer our own in-house dental savings plan to make getting the treatments you want and need as affordable as possible. To learn more, we can be contacted online or at (561) 622-7243.