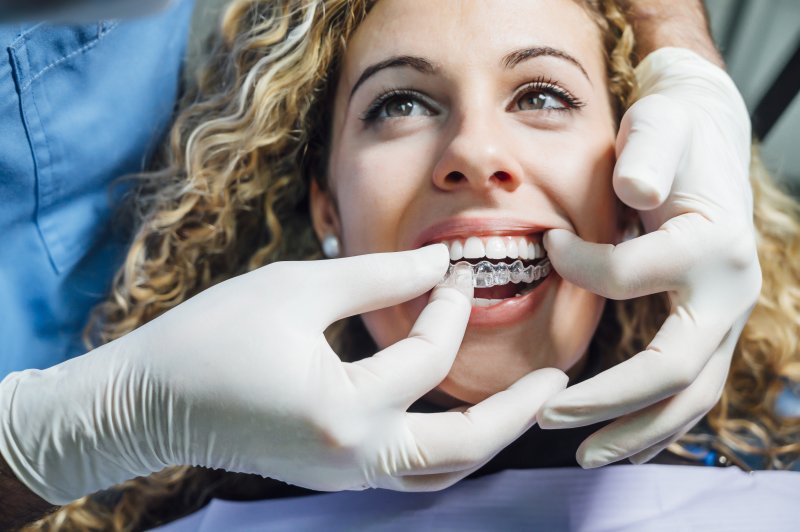 Decades prior, addressing crowded, crooked, or spaced-out teeth required wearing metal brackets and dark-colored wires for 12+ months. That all changed when Invisalign introduced clear aligners in the late 1990s. Since then, millions of patients have achieved their smile goals discreetly, in a fraction of the time, and without the inconvenient dietary restrictions. However, despite its popularity, few are entirely familiar with what to expect from the Invisalign treatment process. With this in mind, keep reading for a step-by-step breakdown!
Step One: The Consultation
As with any cosmetic dentistry treatment, the first step is always to schedule an initial consultation. This appointment gives your dental team a valuable opportunity to learn more about your unique dental needs and smile goals, ensuring Invisalign is the right treatment option for you. If you are a candidate, they will answer any questions you have before getting started and help you take the next step toward your new and improved smile!
Step Two: Diagnostic Records
Since Invisalign treatments are entirely customized to each patient, gathering diagnostic records is essential. The photographs and X-rays your dental team take will be used to create effective, comfortable trays that will incrementally shift your teeth into their ideal position.
Step Three: Getting Your Clear Aligners
Once we get your aligners back from the lab artisans, it'll be time to come back in for your next appointment. If any adjustments are needed, like adding "buttons," your dental team will take care of it on the spot. Otherwise, this appointment will be centered around teaching you how to care for them, sharing a few best practices, and ensuring you know when to transition to your next set of trays.
Step Four: Follow-up Appointments
Although you will work through a series of trays on your own, your follow-up appointments are an essential part of the process of getting Invisalign. Not only will these visits ensure your teeth are tracking properly, but they will also provide you with your next set of aligners and allow you to ask any questions that have come up along the way.
Step Five: Getting Your Retainers
Once you have completed your treatment, it's time to debut your new and improved smile! To preserve your hard-earned results, you'll be given a retainer. Typically, you will be instructed to wear it for at least 20 hours a day for the first six months to a year as your teeth "set" into their new position. After that, you can transition to wearing them nightly.
Now you know a bit more about the process of getting Invisalign! If you are ready to take the next step or would like to learn more, get in touch with your dental team today.
About the Practice
At Juno Beach Smiles, our team of talented, compassionate dental professionals are passionate about making your smile goals a reality. That's why we are proud to offer a number of smile-transforming treatments, including Invisalign! If you are interested in learning more about this discreet orthodontic service or would like to schedule your initial consultation, don't hesitate to visit our website or give us a call at 561-622-7243.