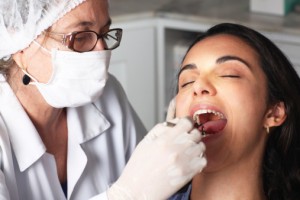 Imagine taking a bite of your favorite crunchy or chewy food. Everything seems fine, but then, a sharp pain shoots through your mouth. You find yourself chewing on a piece of your own tooth. Dental cracking and breaking occurs relatively frequently, and you'd be surprised how many patients choose not to restore these problems right away. However, over time these cracked and broken teeth become susceptible to tooth decay and root canal infections as bacteria is able to directly affect the inner layers of your tooth. In the past, restoring a broken tooth was considered too timely and ineffective, so patients would often have the tooth pulled. At Juno Beach Smiles, we practice conservative dentistry which means we always attempt to preserve natural tooth structure, but we are also a cosmetic dentist which means we want your smile to look as good as it feels after restoration. That's why for severely cracked and broken teeth or teeth that have undergone root canal therapy, we recommend porcelain or metal supported porcelain dental crowns. If you have a tooth in need of repair, call Juno Beach Smiles to find out more about how dental crowns can give you back your beautiful smile.

What are Dental Crowns?
Dental crowns have been used to cap or cover broken, fractured teeth for more than a century. They were originally worn as jewelry by the ancient Etruscans, and made of precious metals and stones. At Juno Beach Smiles, we'll create a more subtle dental crown to restore your smile. Crowns can be made from porcelain, metal-supported porcelain, or gold. We typically recommend a porcelain option for full restoration of your tooth's look and feel.
How do Crowns Restore Smiles?
For patients with cracked, fractured, broken, or root canal treated teeth, a dental crown allows us to retain original dental structure while restoring the shape and appearance of your damaged tooth. First, the existing tooth is prepared. Once we have the tooth shaped, we take an impression of the tooth to be capped and of your entire bite. These impressions will be used to create your crown determining how the interior of the crown should be shaped for placement, and the size and shape of your crown in relation to your bite. Finally, we'll determine the appropriate shade for your tooth so it blends naturally with the rest of your smile.
All of this information is sent to our trusted dental lab, and a skilled ceramists mills a customized dental crown to complete your smile. While your crown is being prepared, you'll wear a temporary, hard plastic crown. When we receive the finished dental prosthetic, it is bond securely to your tooth. The finished product is a strong, beautiful smile.
Call Your North Palm Beach Dental Crown Providers Today
If you have dental damage you need to repair, call Juno Beach Smiles to find out about our extensive restorative and cosmetic dentistry services. We're always here to help you reclaim your smile confidence. Our North Palm Beach, FL dental practice welcomes patients from Juno Beach, Tequesta, Wellington, Riviera Beach, and beyond.