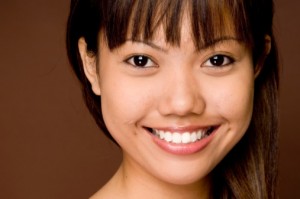 Consider your smile. Are you happy to share your smile with the people you see every day, or are you someone who habitually raises a hand to your mouth in order to cover your smile? If your smile is in hiding, then maybe you should consider permanently hiding your smile. With porcelain veneers, Dr. Duane Keuning and Dr. Greg Riley at Juno Beach Smiles help people from surrounding areas like Jupiter, FL, conceal their old smiles and reveal new and beautiful smiles instead.
Porcelain veneers—also called dental veneers or just veneers—are perfect for restoring a smile that is tainted by a number of cosmetic imperfections, including:
Teeth that are chipped
Slightly broken or fractured teeth
Teeth that are misshaped
Moderately crooked teeth
Teeth that have gaps in between them
Instead of taking the time and dealing with the expense of several cosmetic and restorative procedures that would be necessary to refurbish a smile with these flaws, you can have a fantastic smile with porcelain veneers in just two appointment.
What are Veneers?
In Jupiter, dental veneers are extremely thin layers of dental porcelain that are cemented to the front side of your teeth to create a perfect smile. Because they are made of porcelain, which is a translucent ceramic material, veneers reflect light similarly to natural enamel. Furthermore, they can be sized, shaped and colored to conform to your mouth and your special facial features.
What is the Process for Veneers in Jupiter?
First, Dr. Keuning or Dr. Riley will need to make sure there are no oral health concerns that need to be addressed before beginning the process of applying porcelain veneers. Then, once we're certain that you're a good candidate, you'll come in for a consultation. At this meeting, you'll tell us about the kind of smile you want and we'll take x-rays, impressions and photos of your teeth. Don't forget to mention the characteristics that you want your smile to have—you can even bring pictures of celebrities who have smiles you like.
Then, one of the Juno Beach Smiles dentists will prepare your teeth for veneers by removing a minimal amount of enamel. Doing so allows for a stronger bond between the veneers and your teeth and also ensures they will lie flush with your other teeth. Our trustworthy cosmetic dental lab will then fabricate your permanent veneers. In the meantime, we'll place temporary veneers to safeguard your teeth and help you get used to the feel of veneers.
When your permanent veneers arrive, you'll return to Juno Beach Smiles where we will fit and cement them to the teeth in your smile zone. At the end of the appointment, you'll have a smile that you'll never want to hide again!
Call Our Office Today
To schedule your consultation for porcelain veneers, Call Juno Beach Smiles in Juno Beach, FL, providing the outstanding cosmetic dentistry Jupiter wants, too. We happily serve our neighbors in Tequesta, Wellington, Riviera Beach and beyond.