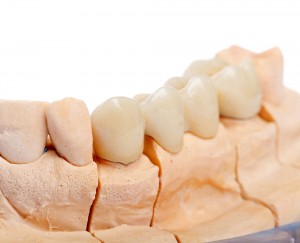 At Juno Beach Restorative & Aesthetic, we're proud to offer care that's both affordable and durable.
One service that falls into both of those categories is a bridge. Formally known as a crown and bridge, this restorative service can help a patient replace a single missing tooth or several teeth in a row.
Because a bridge replaces one or more missing teeth, it's similar to dental implants—another effective restorative service—but there's a key difference. Dental implants are held in place by one or more prosthetic roots made of titanium. A bridge, on the other hand, helps patients enjoy solid, natural results by attaching to healthy nearby teeth.
A bridge procedure is also less invasive than a dental implants procedure. Getting dental implants requires invasive oral surgery, and the full process takes months to complete. A bridge, meanwhile, can be put in place in far less time and the recovery time is also much quicker. As a result, our patients from Juno Beach and beyond can have a beautiful looking smile again in short order.
Are you ready to restore what your smile is missing? Call Juno Beach Restorative and Aesthetic Dentistry for an appointment with our Juno Beach dental team. Dr. Riley and Dr. Keuning would be happy to talk to you about this great tooth replacement option.
We offer restorative care to patients from nearby Florida communities, including North Palm Beach, Palm Beach Gardens, Tequesta, and Jupiter as well.