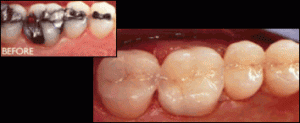 In our previous post, we talked about what effect acid reflux can have on your smile. Today, we'd like to highlight a more common cause of decay and other oral health problems.
In most cases, tooth decay is caused by the way certain kinds of bacteria react to food, especially foods high in sugar. These bacteria react by producing acid, which encourages the growth of new bacteria and then more acid. As bacteria accumulate, a harmful, acidic environment is created. This is how decay occurs.
But that's just the beginning. If not cleared away by brushing and flossing, bacteria eventually becomes plaque, which can irritate the gums and cause gum disease. When untreated, gum disease can eventually cause pockets to develop between teeth and gums. It's also known to be the primary cause of tooth loss in adults.
Thankfully, the doctors at Juno Beach Restorative & Aesthetic can help with tooth-colored fillings, plus crowns, inlays, and onlays. We can also provide periodontal care and offer tips on how to maintain good oral health in between visits.
Regular visits are important for more than just offering general and restorative services—they're also about prevention. We don't want to just treat common oral health problems; we want to prevent them as much as possible, too.
Is it time for your next visit to Juno Beach & Restorative Aesthetic. Call our Juno Beach dental office today for an appointment. Dr. Keuning and Dr. Riley serve patients from North Palm Beach, Palm Beach Gardens, Tequesta, and Jupiter.