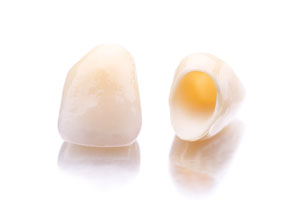 For a tooth that's badly damaged or decayed, sometimes the best treatment option is a crown. A crown covers an entire tooth, protecting it from further damage, but leaving it and the root underneath in place for the benefit of your oral health. With the proper care, crowns can last for years and restore your smile's appearance and functionality.
But as great as crowns are, not every patient needs something quite as dramatic. At the same time, though, maybe you need more than just a simple filling to reclaim optimal oral health.
That's where inlays and onlays come in.
Inlays and onlays are similar to crowns, in that they're made of porcelain, but they don't cover your entire tooth the way a crown does. You might say they're halfway between a crown and a filling then. Inlays are made to repair the part of the tooth that runs between its cusps, which are the bumps on top of a tooth. Onlays, on the other hand, are designed to replace one or more cusps.
Are you worried you might need advanced care with a crown, an inlay, or an onlay? Call Juno Beach Restorative & Aesthetic Dentistry today for an appointment with Dr. Keuning or Dr. Riley. We're proud to offer excellent cosmetic and restorative care to Juno Beach, North Palm Beach, Palm Beach Gardens, Jupiter, and Tequesta.