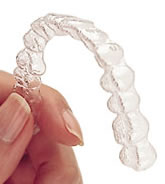 Have you avoided orthodontic care because you don't want to commit to a year or more of traditional braces? Your team at Juno Beach Restorative & Aesthetic Dentistry has good news. Your ticket to a straighter, healthier smile doesn't have to lie behind the brackets and wires of traditional braces. Instead, you can achieve the beautiful smile you've always wanted with revolutionary service known as Invisalign.
Convenient Benefits of Invisalign
The major benefit of Invisalign over traditional braces is that Invisalign doesn't use brackets or wires. Instead, this great orthodontic system lets our Juno Beach patients enjoy a more discreet treatment. That's because Invisalign uses clear, custom-made aligners that are nearly invisible. No one but you and our cosmetic dentistry team will ever have to know about your treatment.
But clear aligners aren't the only benefit of Invisalign. They're also removable. That means you can take them for enjoying meals and for brushing and flossing every day. You'll also take them out to move from your current aligner to the next one in your treatment kit. By the time your treatment is done, you'll have worn every aligner in your kit for about two weeks each.
Is Invisalign Right for You?
Invisalign works well for patients concerned primarily with how their smile looks, which means it's not right for every patient. If you need orthodontic care and want to find out if Invisalign is right for you, call Juno Beach Restorative and Aesthetic Dentistry for an appointment. Dr. Duane Keuning and Dr. Greg Riley provide general, cosmetic, and restorative care for patients from Juno Beach, Tequesta, Jupiter, North Palm Beach, Palm Beach Gardens, and beyond.