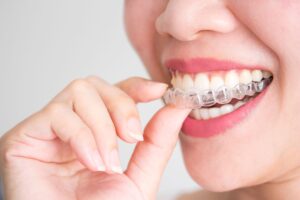 Invisalign is a fantastic alternative for straightening teeth if you want to avoid the hassle, expense, and time required for traditional metal braces. That said, the invisible aligners are not without their own challenges from time to time. One such task that can be difficult for newer patients is removing the well-fitted trays for eating or drinking. If you've had a hard time taking your aligners out, keep reading to learn five helpful tips!
Tip #1: Stay Dry
If you find the aligners are slipping in your fingers and you can't get ahold of them, be sure to dry your hands first. This will allow you to get a better grip to pull them away from your teeth. If you open your mouth for a few seconds then the trays will dry slightly, too, so that you can clasp them more firmly.
Tip #2: Keep Warm
It can also be helpful to make sure your mouth is warm when trying to remove your Invisalign aligners. The plastic material can feel less flexible after exposure to cold substances, so the aligners might be harder to pull off if you've just had a long gulp of cold water!
Tip #3: Start From The Back
It may seem counterintuitive, but you may have better luck removing your trays if you start pulling them off the back molars first. If you place your fingertips on the inside of your back molars, you can pull the aligner away from your teeth. Then slowly work your fingertips toward the front of your mouth until it's removed.
Alternately, some patients find it helpful to start from one end of their mouth and work their way around to the opposite side.
Tip #4: Use The Right Tools
Some commonly found items, like paper towels or rubber gloves, can help you get a stronger hold on the aligners so that you can more easily pull them off.
Another helpful implement is an aligner hook. This tool looks a bit like a small crochet hook and is used to gently lift the tray away from your teeth. Be sure to be cautious using this method; you don't want to be rough with the tool and damage your teeth or gums!
Tip #5: Trim Your Nails
If you have long nails and are trying to remove your Invisalign trays, you might find it difficult for a couple of reasons.
Long nails can make it challenging to effectively grab or pull the aligner.
You could damage your teeth and/or your nails in the process.
Keep your nails trimmed during your treatment so you can feel confident you won't be damaging your manicure or your oral health!
If you've been struggling to remove your aligners, try these techniques for better luck. Also, remember to be patient with yourself. You will learn the methods that work best for you with repetition, and soon you'll find that it's no longer difficult to remove your trays. It'll all be worth it when you remove them for the last time to show off your newly perfected smile!
About the Practice
Drs. Greg Riley and Duane Keuning at Juno Beach Smiles share decades of experience providing patients with outstanding oral healthcare. They have built a reputation for enhancing lives by perfecting smiles. If you're interested in Invisalign, you are welcome to make an appointment with the office on the website or by calling (561) 622-7243.