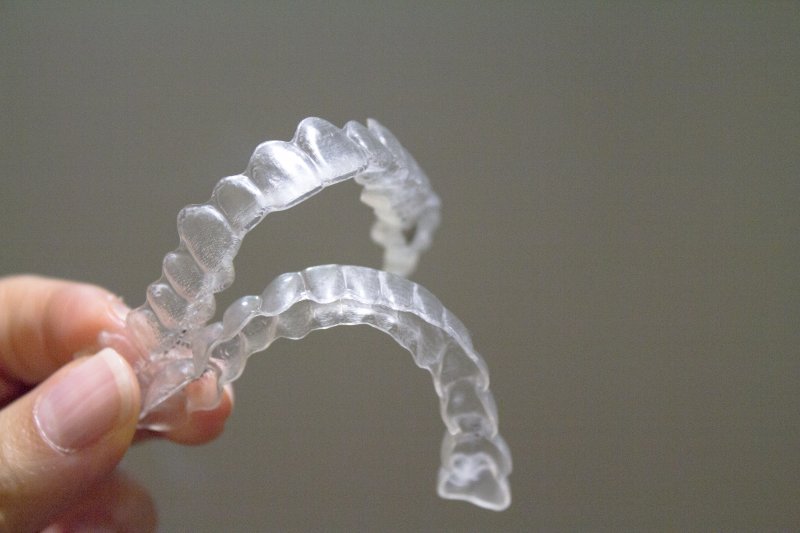 Want to straighten your teeth but looking to avoid the costly expenses of seeing an orthodontist? You may be tempted to try one of those advertised in-home teeth straightening systems, but what you might not know is how detrimental they can be to your smile. Instead of looking for a quick fix that costs less, find out why you're better off letting a professional take care of your smile with a proven system like Invisalign.
Dangers and Disadvantages of Using an In-Home Kit
It's hard to watch TV without seeing an ad for one of those in-home teeth straightening kits. Promising quick and easy results that cost less, they sound like a great solution for someone looking to fix their crooked smile or misaligned bite. Unfortunately, these false promises come with a host of dangers and disadvantages, some of which include:
Your bite and teeth can worsen: That's right! These mail-order teeth straighteners can move teeth too quickly or cause your bite to become even more misaligned. Certain customers have complained of ill-fitting aligners that resulted in teeth falling out and irritability to their gums.
No supervision from a real dentist: When seeing a professional for orthodontics, you will keep regular appointments to ensure everything is moving smoothly with your treatment. However, when using an in-home kit, you may be completely unaware if something is going awry until it's too late.
Inability to use insurance: Think your dental insurance will cover this type of treatment? Guess again! Since you are opting out of seeing a real professional for orthodontic care, you'll have to find another way to pay for your clear aligners.
Benefits of Seeing a Dental Professional
Unfortunately, far too many DIY companies and products are being created to encourage people to "take care of their own dental health." This is resulting in massive dollars being spent on real dental care to fix problems caused by these at-home kits. Instead of throwing your money away and leaving your smile to chance, here are some true benefits of seeing a real professional for orthodontic treatment:
Invisalign clear aligners have been scientifically tested to ensure optimal results. Using advanced technology, teeth and bites move at the appropriate speed and under the supervision of a licensed dental professional.
A dentist or orthodontist has years of knowledge, experience, and training when it comes to providing clear braces, so you know your smile is in good hands.
You won't have to worry about spending additional money after the treatment is over. Your specific problems will be fixed, and you can enjoy a healthy, beautiful smile for a lifetime.
Don't fall victim to the promises of these DIY kits. When it comes to taking care of your teeth, gums, and oral health, leave it to those with the schooling and experience to put your smile in the right place.
About the Author
Dr. Greg Riley completed his Master of Science degree at the University of Miami and earned his Doctor of Dental Medicine degree at the Temple University School of Dentistry. For 20 years, he has been caring for his patients' smiles, offering a wide array of dentistry services. In need of orthodontic treatment? Don't reach for those in-home solutions that you can order from your television. Leave it to the professionals! For questions about Invisalign and what it can do for you, visit our website or call (561) 622-7243.