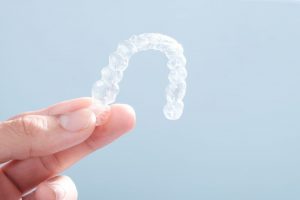 Maybe you've seen advertisements for clear aligners promising to straighten your teeth without needing to go to the dentist's office. Just imagine: one mail order and you can improve your smile without having to worry about costly appointments! Sounds too good to be true, right? Well, that's because it absolutely is. Here's what you need to know about Invisalign in Juno Beach and why you should always turn to your dentist for treatment.
What is Invisalign?
Invisalign – sometimes called clear braces – is an orthodontic treatment that many adults and teenagers use instead of traditional braces. Instead of metal brackets and wires, a series of clear aligners is used to gradually move the teeth over time. Because the aligners are see-through, most casual observers won't notice it, which can help boost the patient's self-image and general confidence. As a bonus, the aligners are removable, so there aren't any diet restrictions.
Why Shouldn't I Trust Mail-Order Invisalign?
Most mail-in Invisalign services employ scans or mold kits to create dental impressions in order to design the aligners, which are mailed to the patient. While this system may seem convenient and inexpensive at first, the lack of orthodontic oversight can make the treatment less effective. While some mail-in companies do periodically let you check in via phone, some factors – such as gum health — can't be reliably assessed this way. Everyone's teeth are different, and adjustments may not happen as expected; an in-person examination is usually necessary to decide whether plans need to be changed.
Remember that orthodontic treatments such as Invisalign don't just correct your appearance; they also have an impact on your oral health. If the process is done incorrectly, it can potentially result in occlusion or tooth loss, which are often irreversible and expensive to deal with.
What are the Advantages of Getting Invisalign at the Dentist?
By regularly seeing your cosmetic dentist in Juno Beach, you can ensure that your orthodontic treatment is proceeding correctly and that any complications can be addressed in a timely manner. While you'll still need to be aware of changes in your mouth, it won't be solely your responsibility to identify potential problems.
Additionally, sometimes your aligners will need additional attachments known as buttons in order to make the necessary teeth movements, and the final phase of treatment might require a different type of appliance. Mail-in Invisalign can't cover these often-necessary steps; it's something that you'll need to go to your dentist for.
When you want to adjust the position of your teeth, the first step should always be to call your dentist and explain the changes you want to make. They'll be able to evaluate your overall oral health and make the best recommendations for your situation. Why trust your smile to someone you've only spoken to over the phone when you can get personalized care at an office near you?
About the Practice
At Juno Beach Smiles, Drs. Greg Riley and Duane Keuning are creating beautiful, natural-looking smiles while building trusting, long-lasting relationships with their patients. They offer Invisalign to help straighten teeth and can provide other cosmetic dental services such as teeth whitening. To schedule an appointment, visit their website or call (561) 622-7243.