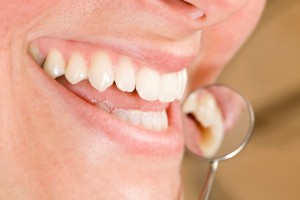 If your gums are hiding too much of your beautiful teeth, you're suffering from what we call a gummy smile — and it's likely something you're interested in fixing. Your dentist in Juno Beach has good news for anyone who's unhappy with the appearance of their gums: laser gum contouring can help! It's a safe, effective treatment that allows Dr. Keuning or Dr. Riley to reshape your gums for a more pleasing look overall. Keep reading to learn more about this procedure, including how it works and whether or not you may be a good candidate, today!
Laser Gum Contouring Lets You Flash Your Best Smile
Your beautiful teeth are under there somewhere — and we can reveal your sparkling white tooth enamel with laser gum contouring. Additionally, laser gum contouring can help to improve the appearance of receding gums. Gum recession can happen for a number of reasons, including aggressive tooth brushing and gum disease. When it happens to you, it can leave your teeth looking too long — but gum contouring can replace missing tissue for a pleasing gum line once again.
The conclusion? No matter the problem with the shape and appearance of your gums, it's very likely that laser contouring can help.
Gum Contouring: How It Works
The beauty in laser gum contouring is that it allows your dentist to reshape your gums without the use of any sutures, stitches or scalpels… whatsoever. Once you decide it's the solution for your smile, you'll thoroughly discuss your goals and desires with your Juno Beach dentist and a treatment plan will be put in place.
With the latest in technology available at Juno Beach Smiles, the procedure for laser gum contouring is more comfortable than ever before. And to maximize your comfort, a local anaesthetic is administered at the treatment site. Once the area is completely numb, your dentist begins expertly rebuilding and reshaping your gums — and after a short recovery period, you'll be smiling your new, beautiful smile for years to come!
After Your Laser Gum Contouring Procedure
After your procedure is complete, you'll have a short recovery period. During this time, you may feel some discomfort or experience swelling. Both can be managed with an over-the-counter pain medication and ice packs applied in 15-minute intervals. Take care while eating and cleaning your teeth — stick to soft foods at first. With rest and relaxation, the recovery should last just a few days.
Experience the Benefits of Laser Gum Contouring For Yourself!
Reveal more (or less) of your beautiful teeth by getting started with laser gum contouring from Juno Beach Smiles! Contact us to request your appointment today.