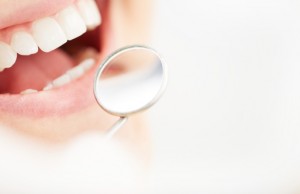 Excess gum tissue can make your teeth appear short and stubby, resulting in a smile that looks disproportional and even childlike in its unevenness. Fortunately, there is a cosmetic solution that can correct an overly "gummy" smile without the use of surgical scalpels or sutures: laser gum contouring at Juno Beach Restorative & Aesthetic Dentistry in Juno Beach, FL. Dr. Duane Keuning and Dr. Greg Riley offer an extensive menu of cosmetic dentistry services with your satisfaction in mind, and we look forward to helping you rediscover the confidence that comes with a gorgeous smile.
Teeth Too Short? Laser Gum Contouring
When a person's teeth appear short or irregularly sized, the culprit is often an uneven gum line or too much gum tissue. The gum tissue extends too far down over the teeth, hiding a substantial portion of their surface area. The removal of this excess tissue reveals the sparkling enamel underneath, giving your smile the balance and symmetry it needs to look its best.
Because our doctors use a soft tissue laser to perform this procedure, healing begins immediately as the gum tissue is cauterized. This method results in shorter recovery times and improved patient comfort as compared to traditional surgical techniques. Laser gum contouring can also be used to even out the appearance of a receding gum line. Drs. Riley and Keuning may suggest a combination of cosmetic dentistry procedures to promote the most aesthetically pleasing results.
Schedule Your Free Cosmetic Dental Consultation
Have you often looked at your smile in the mirror or in photographs and wondered what it would look like without so much gum showing? Perhaps you've even grown to censor your natural smile over the years, adapting to a more closed grin that doesn't show your teeth or gums. At Juno Beach Restorative & Aesthetic Dentistry, our team wants to help. Contact our office in Juno Beach, FL today to schedule your visit with Dr. Riley or Dr. Keuning. We genuinely love seeing our patients' gorgeous smiles, and we'll always work with you to develop a cosmetic dentistry treatment that's perfect for yours. Our state-of-the-art dental practice proudly serves patients from throughout Juno Beach, Palm Beach Gardens, North Palm Beach, Tequesta, and beyond.