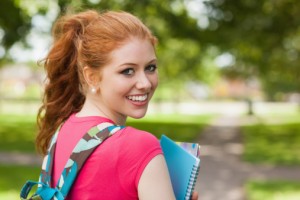 School is back in session, and students from all over the country are headed back to class for another busy semester. Make sure that you're ready for the new school year with a gorgeous, healthy smile courtesy of Juno Beach Restorative & Aesthetic Dentistry in Juno Beach, FL. Dr. Greg K. Riley and Dr. Duane E. Keuning provide patients from throughout the area with a variety of restorative and cosmetic dentistry solutions, allowing them to start off the school year with a smile they can feel confident showing off on campus.
Cosmetic Dentistry That Fits Your Life
If your smile is flawed by cracks, chips, deep stains, or alignment problems, you may feel less inclined to share it with the world. Fortunately, there is a way to correct these common problems without extensive dental work. Porcelain veneers can be applied to the front surfaces of your teeth, masking imperfections and creating the appearance of a radiant smile. These custom-crafted sheaths of fine dental porcelain even reflect light in the same way that your enamel does, so you're left with a smile free of blemishes that still looks completely natural.
For some of our patients, stained and dull-colored teeth are the primary problem they face on a daily basis. If your teeth are dingy and discolored, you're far less likely to reveal your smile to classmates, professors, and even your friends. Allow our team to help with professional teeth whitening. In less time than ever before, you can eliminate stains from deep within the enamel, promoting a brilliantly white smile that lasts.
If missing teeth are harming your smile and your lifestyle, we invite you to ask us about dental implants. These lifelike, sturdy replacement teeth are considered the preferred alternative to removable prosthetics like dentures and bridges. We're always happy to work with you to formulate a customized treatment plan to fulfill your individual needs.
Your Most Beautiful Smile Yet
Whether you simply need the extra smile boost afforded by professional teeth whitening or you'd like to explore the possibilities of a service like porcelain veneers or dental implants, we're here to help. Make this back to school season count with a wide array of customized cosmetic dentistry solutions, and discover the difference a beautiful new smile can make in your life. Contact our office in Juno Beach, FL today to schedule your visit. We look forward to helping you achieve a smile that will certainly turn heads for all of the right reasons! Our practice serves patients from throughout Palm Beach Gardens, Tequesta, North Palm Beach, Juno Beach, and beyond.