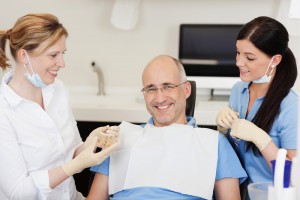 Dental fillings are among the most commonly performed restorative dentistry procedure in America, allowing patients with tooth decay to prevent further damage to their smiles in a way that simultaneously preserves the natural tooth. At Juno Beach Restorative & Aesthetic Dentistry in Juno Beach, FL, Dr. Greg K. Riley and Dr. Duane E. Keuning provide patients with not only the most advanced restorative dentistry options available, but also with advice, information, and insight regarding the treatments we plan for each of our patients.
Amalgam Fillings Vs. Composite Fillings
Amalgam fillings are composed of a mixture of metals, including silver, mercury, tin, and copper. The alloy is placed within the prepared cavity of a decayed tooth to prevent further decay. Because of its composition, an amalgam filling is susceptible to microscopic changes in size and shape when exposed to extreme hot or cold. This may result in tiny fissures in the tooth over time, thereby compromising the structural stability of the tooth as a whole.
Composite fillings, also known as tooth-colored fillings, are made of a composite resin that closely matches the shade of the tooth it fills. The majority of dentists agree that composite fillings are the preferred restorative option. In addition to the fact that they are more aesthetically agreeable, composite fillings stand up to changes in temperature better than amalgams. As with any of our procedures and treatments, our doctors are happy to explain the entire process before your fillings are placed, as well as the pros and cons of each type. We're here to help you understand your dental care and to assist in your journey toward optimal oral health.
Schedule Your Appointment Today
Whether you currently have amalgam fillings and are interested in having them replaced with more aesthetically pleasing composite fillings or you are in need of a new restoration, we invite you to contact us today to schedule your appointment. Our doctors and staff will always welcome you with a warm, sincere smile and the ultimate in gentle chairside manner. Our conveniently located dental practice in Juno Beach, FL also happily serves patients in the surrounding areas, including North Palm Beach, Jupiter, Tequesta, Palm Beach Gardens, and more.