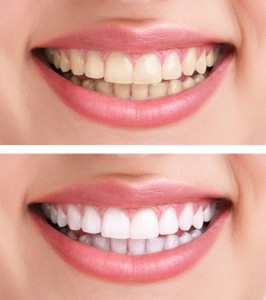 In our last post, we invited you to schedule your first 2014 appointment so we can get started on your smile transformation. Today we'd like to focus on just one of the ways we can transform your smile. It's a popular service known as teeth whitening. With teeth whitening, patients can overcome stains to enjoy a whiter, more dazzling smile and better self-confidence. Andto make the process convenient for our busiest patients, Dr. Keuning and Dr. Riley offer take-home whitening.
Using custom-made whitening trays and a supply of professional whitening gel, you can easily whiten your teeth at home in your spare time.  The process takes between one and two weeks, with a single treatment lasting for 30 minutes each day. During that time, you can take care of some simple household chores, check your email, or relax with a book.
Take-home whitening is often a great service for patients sensitive to in-office whitening. However, if you still experience sensitivity with take-home whitening, simply follow-up your treatment by lining your trays with Sensodyne, or similar toothpaste, and wear them an additional 30 minutes.
Even the most careful patient can end up with embarrassing tooth stains because of the foods and drinks we consume every day. Let Dr. Keuning and Dr. Riley help you overcome your stains with teeth whitening.
Call us today with your questions and to set up a consultation appointment. We're creating beautiful smiles for patients from Juno Beach, Jupiter, Palm Beach Gardens, Tequesta, North Palm Beach, and beyond.