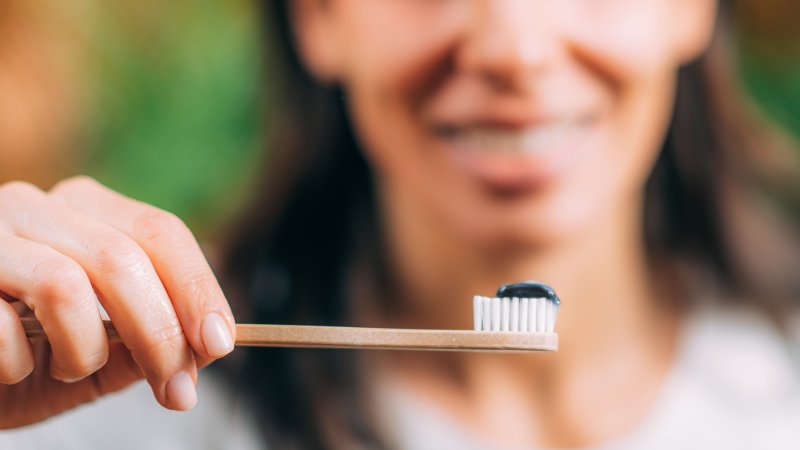 It's no secret that as you age, tooth stains can become more apparent. Whether caused by genetics, poor oral hygiene, or the frequent consumption of dark-colored beverages like coffee and soda, your smile can become dull and lackluster over time. As a result, you may turn to the latest trends to try and recapture a more vibrant appearance. One of the most popular solutions promoted on social media is the use of activated charcoal to brighten smiles. But is it safe to use? Keep reading to discover why you should pursue teeth whitening from a skilled professional instead.
Is Activated Charcoal Safe to Use on Teeth?
If you're envisioning the charcoal that you use to eliminate stains is the same as the one that helps to fire up the grill, you're wrong. The kind that is now taking the world by storm as one of the latest trends is known as activated charcoal.
This unique solution is different because of how it is produced. Exposed to a special gas, the charcoal develops large pores that allow it to be more absorbent. Many doctors will use it for emergencies, especially in individuals who have overdosed or ingested something that can be harmful to their bodies. Its contents can remove various toxins but only within a certain timeframe (i.e., about one hour). Otherwise, it is not effective.
When it comes to whitening teeth, many believe that because it can bind toxins, it can eliminate tooth stains to produce brighter smiles. However, the truth is that there is no clear research that verifies its effectiveness. While it may remove minimal surface stains, those that exist beneath the surface will be undeterred.
Why is Professional Teeth Whitening a Better Option?
Choosing a cosmetic dentist who is skilled in whitening teeth with professional products will leave you with safer, more beautiful, and longer-lasting results than those achieved with activated charcoal.
With the latter, you run the risk of damaging your teeth because of how abrasive charcoal can be. No matter if you use a powder or capsule, the particles within the mixture can wear down tooth enamel over time.
With professional products, however, your dentist can oversee the process to ensure that the appropriate amount of bleaching agent is used to not only eliminate surface and deep-down stains but also produce longer-lasting results.
It's natural to want whiter teeth quickly and without spending a fortune, but cutting corners to avoid seeing a professional will only hurt your smile in the long run. Avoid the trends and instead, leave your pearly whites in the hands of someone who is trained to target tooth stains and produce whiter, brighter smiles.
About the Author
Dr. Greg Riley completed his Master of Science degree at the University of Miami and earned his Doctor of Dental Medicine degree at the Temple University School of Dentistry. For 20 years, he has been caring for patients' smiles by eliminating stains and improving appearances. If tooth discoloration is keeping you or a loved one from embracing greater opportunities, visit our website or call (561) 622-7243 to find out how we can use professional teeth whitening to give you back your confidence.