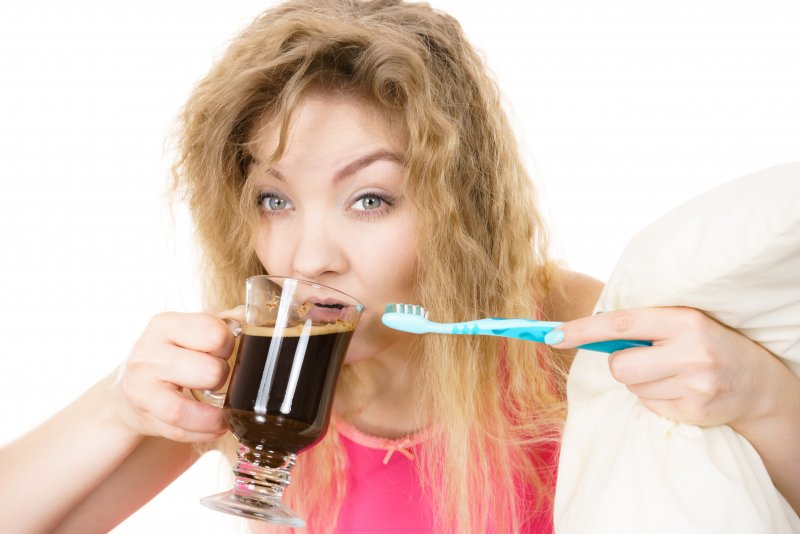 Your smile is an asset, and maintaining its brilliance is essential for confidence. However, there are several habits you may be engaging in that are inadvertently leading you to a set of yellow teeth. While it's impossible to avoid every potential cause, understanding a few of these causes can help you make informed choices to preserve your pearly whites longer.
Continue reading to discover four surprising ways you might be staining your teeth, and how to mitigate their effects. And if you think your smile has become too marked by any of these staining agents, don't worry. Teeth whitening treatments can restore your smile to a dazzling pearlescence.
1. Consuming Pigmented Food and Drinks
What do coffee, tea, and wine all have in common? Of course, they're all drinks that are consumed on a regular basis all over the world, but the less obvious answer is the stain-causing agents contained within—tannin and chromogen.
Tannins are natural compounds that are responsible for giving several food items and drinks their dark color and bitterness. These tannins interact with carbohydrates, proteins and enzymes, and sugars causing them to stick to the enamel of your teeth.
In addition, pigmented food and drinks like wine, cherries, curry and soy sauce have a substance called chromogen which is responsible for their color. Tannins and chromogens react together intensifying their colors and causing staining of your teeth.
Drinking water after consuming these beverages can minimize their impact by washing them off your teeth before they stain.
2. Ingesting Artificial Food Coloring
Foods that carry food coloring like candy, popsicles, juices, or other concoctions are dyed with chemicals to give them a more attractive appearance. The downside to these treats, besides their high sugar content, is their stain-causing properties.
How many times have you eaten a popsicle or drank some soda only to discover that your tongue had changed colors? The dye that clings to your tongue is also sticking to your teeth.
The best way to counteract these dyes is to brush your teeth with a soft bristled toothbrush after eating. This will stop plaque from forming on your teeth and clean the dye from them.
3. Smoking
While a bad habit in general, smoking can also severely discolor your teeth while making them susceptible to a whole host of other problems like tooth decay, periodontal disease, and oral cancer.
As you inhale the smoke from the cigarette, you are also drawing in nicotine and tar. The smoke swirls around your teeth, embedding these stain-causing chemicals in the tiny cracks and pores in the surface of your enamel.
The only way to alleviate "smoker's mouth" is to stop smoking. This can be a difficult task for many as the addictive chemicals continue to draw them back into the habit.
4. Not Brushing Your Teeth
Poor oral hygiene is a big contributor to tooth discoloration. Chemicals and compounds that cause stains like to cling to dental plaque. The plaque itself is full of bacteria and becomes acidic if left alone. This acid will slowly eat into the enamel of your teeth, depositing the stains as it goes.
Brushing and flossing your teeth regularly will prevent this plaque buildup over time and save your enamel from the deep-seated stains that come with it.
Now that you're aware of these common staining agents, you can take proactive steps to protect your pearly whites. Maintaining a regular dental routine, practicing good cleaning habits, and moderating your consumption will go a long way in preserving your bright smile.
About the Practice
Dr. Greg Riley and Dr. Duane E. Keuning believe in taking exceptional care of their patients and continuously growing their base of knowledge to serve them better. Dr. Riley is a member of two professional organizations, devoting over 200 hours per year to updating his knowledge of dental science. Dr. Keuning received credit hours from the prestigious Dawson Institute as well as other highly acclaimed institutions while continuing his education. To schedule a teeth whitening appointment or learn about other services offered at Juno Beach Smiles visit the website here or call (561) 622-7243.