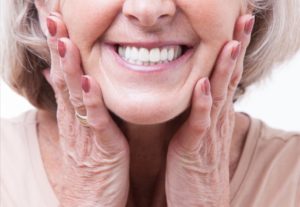 Dentures have given millions of people the ability to enjoy having a complete set of pearly whites again. Their prosthetic returns everyday functions such as eating and speaking with ease, as well as the confidence that comes with a beautiful smile. However, dentures can cause sores in the mouth, making it hard to enjoy all the benefits they offer. Read on to learn the causes of denture sores, as well as how to treat and prevent them.
What Causes Denture Sores?
In many cases, sores can form in the mouth if a prosthetic doesn't fit properly. Since dentures put a certain amount of pressure on the gums, they can cause major discomfort and irritation if they are ill-fitting and place more pressure on certain areas.
Another reason denture sores can develop is poor oral hygiene habits. Without proper cleaning and nightly removal of the prosthetic, food particles and bacteria can develop on it. This can result in inflammation throughout the mouth.
What Can You Do to Treat Denture Sores?
If the sores from your dentures are due to them not fitting properly, it is essential to visit your dentist as soon as possible to have them adjusted or refitted. This will help ease the pressure from your prosthetic teeth, causing them to be correctly and evenly distributed along your gums, relieving any discomfort.
However, in the meantime, you will want to treat the sores that you already have. Some remedies include:
Using over-the-counter topical anesthetics to numb the gums.
Rinsing with warm salt water multiple times a day can speed up the healing process of the sores.
Taking acetaminophen, ibuprofen, or other over-the-counter pain relievers to ease any discomfort.
Taking dentures out before going to bed every night to ensure the gums are getting much-needed rest and healing time.
Cleaning dentures regularly to prevent the buildup of food particles and bacteria.
Helpful Tips to Prevent Denture Sores
It's always best to be a step ahead when it comes to caring for your dentures and oral health. Here are a few preventive measures to keep in mind while wearing a prosthetic:
Stick to soft foods when first wearing dentures. This decreases the chances that problems will occur while adjusting to your new teeth.
Use a denture adhesive to keep your restoration from moving around in your mouth.
Avoid acidic foods and beverages, as they can contribute to irritation of the gums.
Call your dentist right away if you think your dentures are not fitting properly.
Dentures are a wonderful tooth loss solution, but they can form sores at times. With the proper treatment and the knowledge of how to prevent them, you can enjoy your complete smile for years to come!
About the Practice
Juno Beach Smiles is eager to help you keep your smile whole, healthy, and beautiful through its two dental experts. With a commitment to providing high-quality dentistry with comfort, they offer a wide range of services, including restorative care like full, partial, and implant dentures. By using advanced dental technology and personalized plans, they can assist you with any of your prosthetic needs. To schedule an appointment, visit their website or call (561) 622-7243.