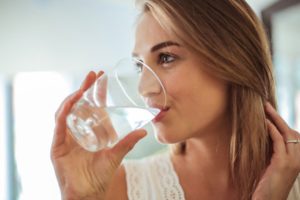 It goes without saying that water is the absolute best beverage for your body—in fact, you've probably been told your whole life that you need to stay hydrated and drink plenty of it! But did you know that many local water sources have fluoride added to them, which is incredibly beneficial for your oral health? Here's more from your dentist about fluoride and why it's an important contributor to a healthy set of pearly whites.
What Is Fluoride?
Fluoride is a naturally occurring mineral found in all sorts of foods and drinks, and it's often present in many local water sources. In dentistry, fluoride is used to strengthen teeth and reduce the risk of cavities, making it an incredibly beneficial substance. Every day, your enamel gains and loses minerals; but fluoride can counteract this demineralization and keep your teeth healthy and strong. It's also worth noting that fluoride is naturally present in groundwater and the oceans.
The Importance of Fluoridated Water
Fluoridated drinking water is nothing that you should worry about; in fact, there are several important reasons for this. The dental benefits are substantial enough on their own; in fact, studies show that fluoride in drinking water prevents tooth decay in adults and children alike by up to 25%!
Additionally, fluoridated water helps cut down on dental costs in the end by negating the need for significant treatment in the first place! The average lifetime cost per person to fluoridate a water source is much less than even the cost of just one dental filling.
It's also worth mentioning that scientific evidence indicates that adding fluoride to drinking water is safe; it's just important to avoid excessive amounts through the overuse of dental products.
People of all ages and walks of life can benefit from fluoride, so don't hesitate to see if your local water supply has fluoride present! You'll gain access to several awesome benefits that are certain to keep your smile beautiful and healthy.
About the Practice
The team at Juno Beach Smiles is thrilled to offer patients and families in the Juno Beach, FL community an exceptional level of dental care! Under the leadership of Dr. Greg Riley and Dr. Duane Keuning, they offer a wide range of preventive, restorative, and cosmetic services that are certain to help you achieve the brightest and healthiest smile imaginable! If you have any questions about the article or would like to schedule a visit for you or a loved one, feel free to contact their practice online or by phone: (561) 622-7243.