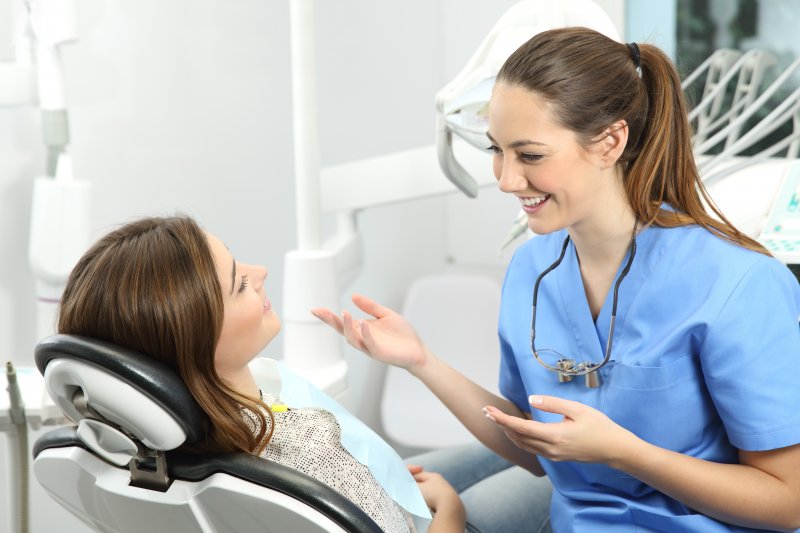 Dermal fillers are a cosmetic treatment that uses injections to smooth lines on your face and plump up wrinkles. It may come as a surprise, but some dentists offer this procedure. Since this is an unknown territory for some, it's important to make sure to ask your dentist any questions you have. Continue reading for ideas on seven questions that you should ask your cosmetic dentist before you decide to get dermal fillers.
#1: What Are the Benefits of Fillers?
As people get older, they lose volume in areas of the face. This contributes to wrinkles, folds, hollow temples, sunken eyes, thinning lips, and an overall older appearance. Dermal fillers can help by:
Improving contours without altering your facial expression
Correcting scars (only certain fillers can do this)
Smoothing out folds and wrinkles
Restoring volume loss
#2: Are Dermal Fillers Safe?
Though dermal fillers have been tested and determined to be safe for many people, there are several risks that you should be aware of before proceeding with this treatment. Some of the potential risks of this procedure include:
Infection, which may cause the death of the infected skin in severe cases (necrosis)
Damage to your skin, which may lead to scarring
Bleeding, redness, pain, bruising, and swelling
Asymmetrical appearance
Lumps or bumps under the skin
Rash and itching
Numbness
Pimples
#3: Is There Any Downtime After Getting Dermal Fillers?
After getting dermal fillers, you can jump right back to your normal routine. Even so, patients may experience some bruising or swelling after the procedure. For this reason, it's best not to schedule a filler appointment right before important events.
#4: How Long Do the Results Last?
The effects of fillers are long-lasting, but they aren't permanent. You can expect them to last anywhere from six months to two years. How long they last depends on several factors, such as:
The quantity of the filler
What area is treated
The age of the patient
The type of filler
Lifestyle
#5: Will Dermal Fillers Affect My Teeth?
Dentists like to be cautious about dermal fillers. If dental work is needed near where a dermal filler was placed, the area may be at risk. The dental work could cause that spot to get infected. It is best to have any necessary dental work done prior to the filler procedure.
#6: Are There Aftercare Instructions?
It's important to follow your dentist's instructions after getting fillers. This may include avoiding touching the area that was injected too much. Additionally, you may want to use a hot compress to bring down swelling. You should also avoid taking blood thinners. If there's swelling and bruising that doesn't go down within a few days, consult with your dentist.
#7: Which filler do I need?
The kind of filler you get will depend on several factors, such as your treatment goals and facial anatomy. It's best to book a consultation to discuss these things with your dentist. They'll be able to help you determine which option fits you best.
About the Practice
Juno Beach Smiles takes pride in what they do. They offer patients youthful, full, healthy smiles they'll love through a range of exceptional treatments. This includes dermal fillers to give your face a plumper, more youthful look. If you want to set up an appointment with Juno Beach Smiles or to learn more about the services they offer, call their office at (561) 622-7243 or visit their website.