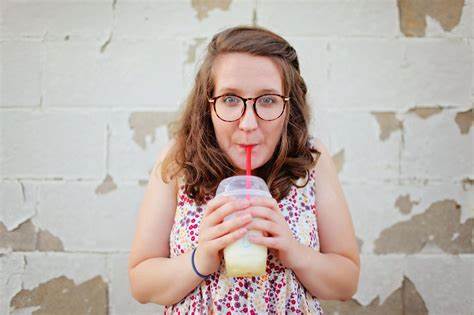 Taking good care of your teeth is key to maintaining a happy smile. Brushing, flossing, and making healthy choices are an important part of a healthy beam, but there are other ways to keep your beam in good condition. In fact, the way you drink your beverages may impact the health of your smile. Continue reading to learn how drinking beverages through a straw is better for your teeth than drinking them without one.
Why Straws are Better for Your Teeth
Sugar in the foods and drinks we consume feeds oral bacteria. These bacteria then release acids that attack and weaken our enamel. This makes our smiles more susceptible to decay. The main reason why drinking through a straw is better for your oral health is that less of the beverage will come in contact with your teeth.
Straws can also help prevent dental staining. Beverages like tea, coffee, cola, and grape juice can leave unsightly stains on your smile. But, if you drink them through a straw, they won't make as much contact with your teeth and will be less likely to leave them discolored.
What Are The Best Types of Straws to Use?
Though plastic straws are easily accessible at many restaurants, they aren't biodegradable and aren't accepted by most recycling programs. When possible, opt for an eco-friendly paper straw or one made from biodegradable or compostable plastic. Reusable straws are an even better option. They can be washed and reused, and many come with carrying cases that allow you to take them with you to restaurants.
4 Other Ways to Take Care of Your Smile
Along with using straws to sip your beverages, some other ways to prevent oral health problems and staining include:
Drink water – Consuming a glass of water after eating or drinking stain-causing foods and beverages will lower your risk of staining. Water will also help wash away bacteria and neutralize acid.
Brush your teeth – Wait until 30 minutes after you're done drinking your beverage to brush. This is because your enamel will be temporarily weakened during this period due to a change in pH levels in the mouth.
Floss – This will lower your risk of developing cavities between your teeth.
Increase saliva production – Fresh, crisp fruits and veggies as well as sugar-free gum and hard candy can increase your saliva production.
Visit your dentist – They can give you tips on how to protect your smile. Your pearly whites will also be thoroughly cleaned during these biannual visits.
About the Practice
Juno Beach Smiles takes pride in helping patients keep their smiles healthy, happy, and bright. They offer a variety of exceptional treatment options, including checkups and cleanings to keep oral health issues at bay. They can also give you tips on keeping your smile healthy outside of their office, such as using a straw to drink your favorite beverages. If you want to make an appointment with the team at Juno Beach Smiles or to learn more, call (561) 622-7243 or visit their website.