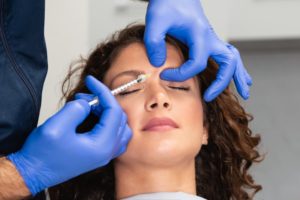 Modern technology and techniques have made it possible to improve not only your life but your appearance. A very popular cosmetic treatment used to eliminate fine lines and wrinkles is Botox. In addition to turning the clock back on aging, it can also help with various issues such as TMJ disorders, migraines, excessive sweating, teeth grinding, and other muscular disorders. But how long can you count on reaping the benefits from Botox? Read on to learn more from your dentist in Juno Beach.
The Expected Lifespan of Botox
The average lifespan of Botox after one treatment typically ranges from 3 to 4 months. It is important to keep in mind that the longevity of your injections can vary compared to others. Why? Everyone's skin and issues vary so several factors can cause results to disappear early or be prolonged.
If you begin to see the effects of your Botox treatment fading after a few months, you can always seek follow-up appointments if you want your results to last longer. Your Botox provider can guide you to the best amount and frequency of treatment, so you get the results that you desire.
What Factors Can Affect the Longevity of Botox?
When meeting with your Botox specialist, you will undergo a thorough evaluation to determine your exact needs and goals. Your provider will discuss how well Botox will work for you. During your visit, there are several factors that will be considered when determining the projected lifespan of your results once treatment is complete. These include:
The area where the treatment will be administered
The amount of Botox that will be used
Your age and skin elasticity
The depths of your wrinkles if treatment is used improve facial lines
The last important factor to consider is that the longer you continue to receive Botox, the more likely you will maintain its results. Naturally, this will require fewer appointments over time. Since the muscles of the injected area become temporarily paralyzed, they will remain unused. This causes them to become smaller, thus needing less treatment over time.
Ways to Maintain Your Results
While it is not uncommon for patients to receive Botox every three months to maintain results, you may need a touch-up before then or your results may last much longer (up to six months). As stated above, the effects differ for everyone based on varying factors. However, here are some effective ways to help your treatment last as long as possible:
Quit smoking and using tobacco products
Limit alcohol consumption
Wear plenty of sunscreen and/or wear a hat during sun exposure
Drink plenty of water to keep your skin hydrated
Opt for healthier food choices as often as possible
Wear a custom mouthguard while sleeping if you grind your teeth
Botox is a wonderful solution for an array of concerns or issues. By visiting your Botox provider for a consultation, they will be able to not only answer your questions but give you the best timeline for your results.
About the Practice
Juno Beach Smiles is eager to not only help you keep your smile healthy and bright but assist you with other oral or facial issues. Their two dental experts offer a wide range of services, including Botox treatments. By using the latest technologies and techniques, as well as customized plans, they will ensure your goals and needs are met successfully. To schedule a consultation, visit their website or call (561) 622-7243.