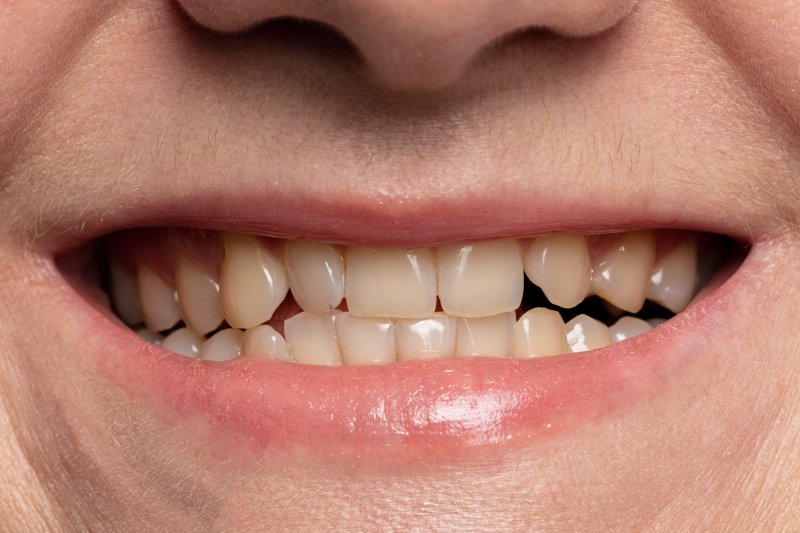 Don't like what you see every time you smile in the mirror? You're not alone. Many people are embarrassed by their teeth for several different reasons. In most cases, it's because of tooth discoloration. If you have brown or yellow teeth, you may be tempted to hide your grin any chance you get. By identifying the underlying cause, you can get a personalized treatment plan to reveal a brighter smile. Read on to learn more about the causes of yellow teeth and how you can restore your pearly whites!
What Causes Yellow Teeth?
Believe it or not, teeth come in multiple different colors and shades. In addition, there are multiple factors that affect their color. Your pearly whites may naturally have a gray or bluish tint from medications, trauma, or any other number of issues. Luckily, they're not as common as yellow or brown teeth, which are much easier to treat.
Some likely causes of yellow teeth include:
Poor oral hygiene. Failing to brush and floss your teeth regularly can lead to plaque and tartar buildup. If you don't visit your dentist regularly, these accumulations can darken your smile over time.
Smoking. As you may already know, tar and nicotine can stain your teeth.
Age. Over the years, it's normal for the enamel to become thinner. This causes more yellowing dentin to become visible.
Diet. Frequent consumption of dark foods and drinks can cause the pigments to seep under your enamel, making them change color.
Dental problems. Preexisting oral health issues, like decay or gum disease, can negatively affect the vibrancy of your smile.
How to Address Tooth Discoloration
No matter how much you brush and floss, these at-home practices won't be enough to reverse tooth discoloration. Although you can purchase over-the-counter whitening kits, they won't have any effect on stains because they lack professional dental-grade ingredients. Plus, these systems aren't effective for all types of discoloration. If you want to achieve stunning and long-lasting results, you'll need to consult with your cosmetic dentist.
They'll create a custom treatment plan to revamp your smile, which may include:
In-Office Teeth Whitening: In as little as one appointment, you can get your smile up to eight shades brighter!
Take-Home Whitening: If you would rather transform your pearly whites from the comfort of your home, you can do just that with a professional take-home kit. Your cosmetic dentist will give you everything you need to brighten your smile.
Veneers: These ultra-thin sheaths of dental-grade porcelain are designed to mask almost any imperfection, including severe discoloration. With proper maintenance, you can easily expect your results to last years to come!
The smile of your dreams isn't far from reach. With the help of your cosmetic dentist, you can say goodbye to brown or yellow teeth!
About the Practice
At Juno Beach Smiles, we're passionate about helping patients achieve their very best smiles. We use the latest techniques and technologies to provide the best care possible. If you want to revamp your grin, don't hesitate to ask about our cosmetic services. You can schedule a consultation via our website or call (561) 622-7243.