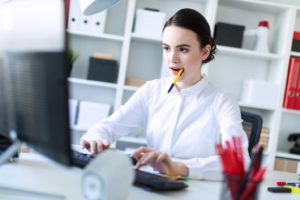 TMJ disorder, also known as TMD, is a common problem that can cause persistent jaw pain and a slew of other unpleasant symptoms. If you are suffering from it, you should certainly arrange to receive professional treatment as soon as possible. In the meantime, there may be some simple measures you can take to lessen your discomfort. In this blog post, learn about six habits that should be avoided by individuals with TMD.
Chewing Gum
For the majority of people, chewing sugar-free gum is harmless. In fact, it can even help to reduce the risk of dental cavities. Unfortunately, it is not a good habit for people with TMD. The muscles around your jaw joint are already sore and overworked. Exposing them to extra stress by popping a piece of gum in your mouth is likely to exacerbate your symptoms.
Slouching
Poor posture is infamous for being able to cause all sorts of aches and pains throughout the body. The jaw and facial muscles are no exceptions. The TMJ (jaw joint) functions best when you are upright, with your head positioned at the top of the spine. Try to keep your shoulders back and your head up to reduce TMD symptoms. (A common cause of poor posture is spending too much time looking downward at a phone or other device. You might need to cut back on your social media scrolling time.)
Eating Hard Foods
Consuming hard foods is a bad idea for the same reason that chewing gum is. Such foods can overwork an already sore joint. Try to eat mostly fork-tender or no-chew items. Here are a few examples of what you should be able to safely eat:
Soup
Smoothies
Scrambled eggs
Well-cooked vegetables
Soft breads
Pasta
Meatloaf
Resting Your Head on Your Chin
When you are studying, watching TV, or suffering from boredom, do you tend to rest your head on your chin? Doing so can place excess pressure on your TMJ. It might even cause the joint to slip out of place, which can increase pain and problems with chewing.
Chewing Food on Only One Side of Your Mouth
Do you tend to automatically shift your food to one side of your mouth when you are chewing? This habit can worsen TMD because it creates an uneven workload for the sides of your mouth and the surrounding muscles. If tooth pain is the reason why you only chew on one side, you should talk to a dentist about your treatment options ASAP.
Non-Functional Jaw Activities
Non-functional jaw activities are any use of your jaw that does not relate to speaking or eating. For example, it might involve chewing on pens or biting your fingernails. These habits expose your TMJ to extra work and can worsen symptoms of TMD.
Professional treatment is always recommended for TMD sufferers. However, your daily habits can also have a big impact on how your jaw feels!
Meet the Practice
Dr. Greg Riley and Dr. Duane Keuningof Juno Beach Smiles are friendly, experienced, and highly skilled dentists. They offer multiple forms of TMJ treatment, including occlusal splints, BOTOX® injections, and more. To learn how they may be able to help you say goodbye to your TMD symptoms, contact our team at 561-622-7243.