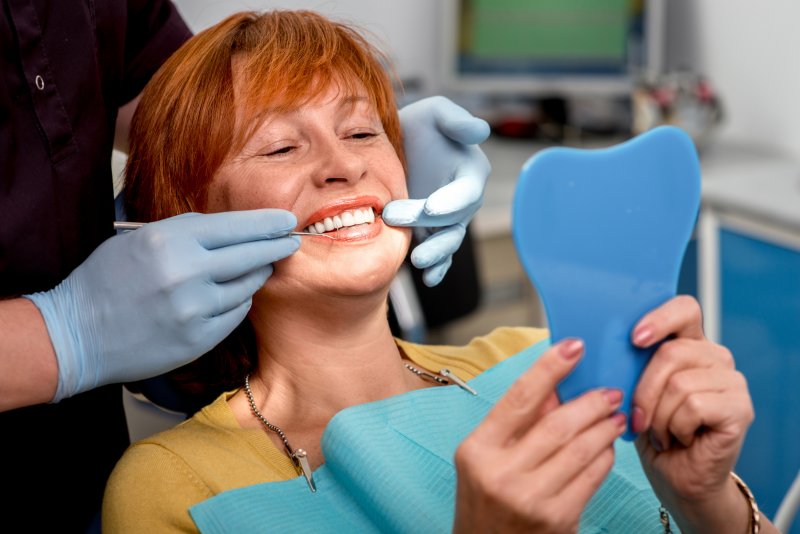 Missing teeth can affect several aspects of your life. Not only can it make you feel self-conscious, but it can limit your food choices, causing you to resort to a soft diet. While dentures are an excellent way to restore your bite, they can still affect how and what you eat. Some research even suggests that these dietary adjustments could negatively impact your nutrition. Continue reading to learn more about this phenomenon and how dental implants may be able to improve your eating habits.
How Do Traditional Dentures Affect Nutrition?
For years, traditional dentures were known as the ideal solution for missing teeth. The prosthetics are essentially artificial teeth held in an acrylic gum-colored base material, and they rest on the gum tissues. Because they're not affixed to anything inside the mouth, there are limitations on the chewing force provided by dentures.
They're only able to restore the ability to chew side to side on the back teeth. Unfortunately, that means dentures cannot grind and tear food. As a result, chewy meats and certain starchy foods are off-limits because they cannot be chewed properly or could potentially dislodge the prosthetics. Some denture-wearers may only chew their food partially, swallowing larger pieces than they should. Although you may not realize it, this can negatively affect overall nutrition.
What Causes Nutritional Deficiencies?
Chewing is the first step in the digestive process. It helps break the food down into small particle sizes, which are easier for the stomach acids to break down after swallowing. There are also chemical forces provided by enzymes in the saliva that begin breaking down particular molecules in food. If the food isn't chewed enough, it doesn't digest properly. Also, since people with dentures often swallow larger pieces of food, it's harder for the stomach to break it down and absorb nutrients. In the end, this can lead to vitamin deficiencies that are linked to several health complications.
How Dental Implants Can Help
If you ever find yourself eliminating foods from your diet or struggling to chew because of your dentures, you may want to consider upgrading to dental implants. They'll help support your dentures by connecting them to the jawbone, simultaneously improving your bite force and reducing unwanted movement. Implant dentures make it easier to chew harder, tougher foods because they enable for tearing motions. This modern tooth loss solution will allow you to enjoy all your favorite foods once again!
Are you struggling to meet your nutritional needs with dentures? You don't have to live that way forever. Contact your dentist in Jupiter and ask about implant dentures. They're always more than happy to help!
About the Practice
At Juno Beach Smiles, we offer high-quality and personalized dental services unlike anywhere else. From routine checkups to complex restorative treatments to state-of-the-art dental implants, we've got everything you need for a healthy smile. If you want to upgrade to implant dentures, don't hesitate to ask. You can schedule a consultation via our website or call (561) 622-7243.