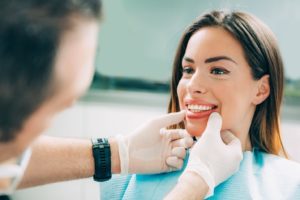 If you've received dental bonding for damaged teeth in the past, then you're probably enjoying the many benefits that the treatment has to offer—coupled with a beautiful smile! But perhaps over time the shine and sparkle of that smile has dulled, and you'd like to make it noticeably whiter and brighter. Is teeth whitening still a viable treatment option for bonded teeth? Keep reading to learn more from your cosmetic dentist.
The Teeth Whitening Process
There are a few different ways to whiten teeth. Some people opt for store-bought whitening products—although many of these have mixed or poor reviews, and some users even report worsened results! However, many patients go the professional route and seek out teeth whitening from their dentist. This is typically performed using one of two methods: in-office whitening or a take-home whitening kit. Both methods are effective and proven to whiten your natural pearly whites in a safe manner.
The Complications of Whitening Bonded Teeth
If you've received dental bonding, then all of your teeth are no longer composed entirely of natural material; every affected tooth has had composite resin bonded to it! And unfortunately, even though this solution is intended to help your teeth, it also inhibits their future ability to receive whitening. This is because the resin is nonporous, unlike your tooth enamel—which is very porous and vulnerable to outside forces, both good and bad, that might affect its shade.
Since this resin is nonporous, the whitening agents aren't able to penetrate it, meaning that your bonded teeth will continue to look stained despite the intended effects of whitening. So, if you have bonded teeth, you'll likely have to go a different route to whiten your smile if you've received dental bonding.
How Else Can I Whiten My Smile?
In reality, the best time to brighten your smile is before receiving cosmetic dental bonding, but this is not always possible. If your teeth have become noticeably stained after receiving dental bonding, there are two great options to whiten them:
Veneers – Your dentist can bond ultra-thin sheets of dental porcelain to the outer surfaces of your teeth, instantly improving their appearance and whitening your smile. They can be applied to teeth that have received dental bonding.
New bonding material – In some cases, your dentist can simply replace the old resin with new resin that matches the color of your teeth! This is also the ideal option if your bond is several years old or has deteriorated for any reason.
Nobody wants to go through life with a stained smile; and unfortunately, it can be a little tricky to address if you've received dental bonding, However, it's still quite possible; you'll just have to talk with your dentist to figure out a solution that works in conjunction with your bonded teeth.
About the Practice
Juno Beach Smiles proudly serves patients and families in the Juno Beach, FL area. The practice is led by Dr. Greg Riley and Dr. Duane Keuning. Together they combine several decades of collective experience to provide an exceptional level of dental care for all their patients. Their practice is pleased to offer many available services including several cosmetic options. If you have any questions about whitening your bonded teeth, don't hesitate to visit online or call to set up an appointment: (561) 622-7243.