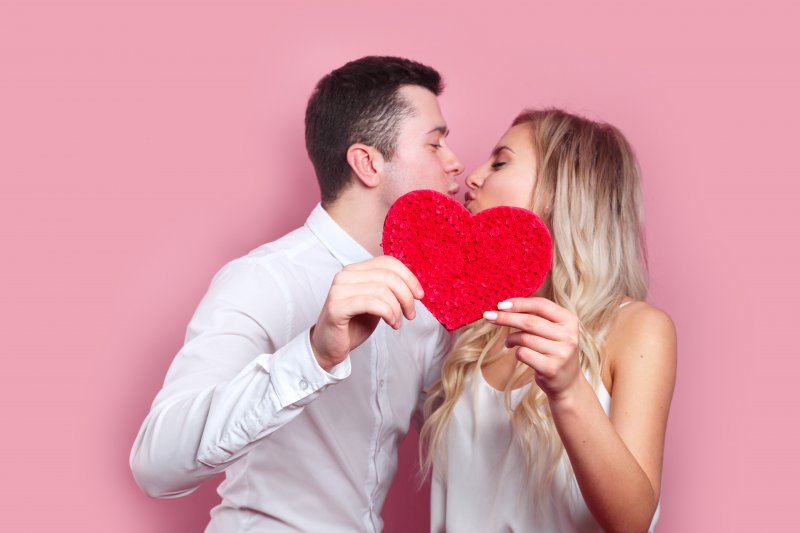 Dating is stressful enough as it is. However, add dentures to the mix and you introduce an entirely new set of problems. If you scored a date for Valentine's Day, you might be wondering whether or not your artificial teeth will create issues while kissing. The good news is that there's a high chance the special person you're seeing won't even notice your dentures, so there's nothing to fear! Read on to learn more about dating and kissing with dentures as well as tips to ensure your date is a success.
Can Dentures Make Kissing a Challenge?
Even though kissing is a crucial part of any romantic relationship, many denture wearers find that they're not willing or able to kiss once they get their artificial teeth. For instance, partial dentures pose a special challenge when it comes to kissing. They're secured to your natural teeth with hooks or clasps, which might not be enough when it's time for action. The pressure can dislodge the denture and (in a worst-case scenario) be swallowed by either partner. Complete dentures have many of the same problems as partials, except they're more likely to be dislodged with suction since that's all that's holding them in place.
How Do You Tell Your Partner You Wear Dentures?
If you wear dentures, you're probably wondering when and how you should tell your date about your artificial teeth. Although it can be difficult to approach the subject, it's incredibly important to let your partner know in the early stages of the relationship, before getting intimate. There may never be a perfect time, but the sooner you get it out in the open, the more relaxed you can be. Additionally, showing your vulnerability can even bring you guys closer together!
Tips on Kissing with Dentures
Are you inexperienced when it comes to dating or kissing with dentures? Don't worry – here are some tips to help you out:
Relax. The best thing you can do is relax about the kiss. Only tell your partner about your dentures if you are comfortable enough doing so!
Keep your mouth clean. Make sure you're brushing twice a day, flossing daily, and rinsing with an ADA-approved mouthwash. Don't forget to take proper care of your dentures!
Hold them securely. When you first put your dentures on, use denture adhesive to ensure they stay firmly in place.
Kiss carefully. Do not apply a lot of suction to your teeth or kiss too forcefully to avoid dislodging your dentures.
Don't put off being affectionate on Valentine's Day just because you have false teeth. By following the tips outlined above, you can ensure your date is a success and land a second one!
About the Practice
At Juno Beach Smiles, we're passionate about helping patients achieve and maintain optimal oral health. Our team enjoys educating patients to help them make confident and informed decisions for their smiles. For more tips on kissing with dentures, visit our website or call (561) 622-7243.