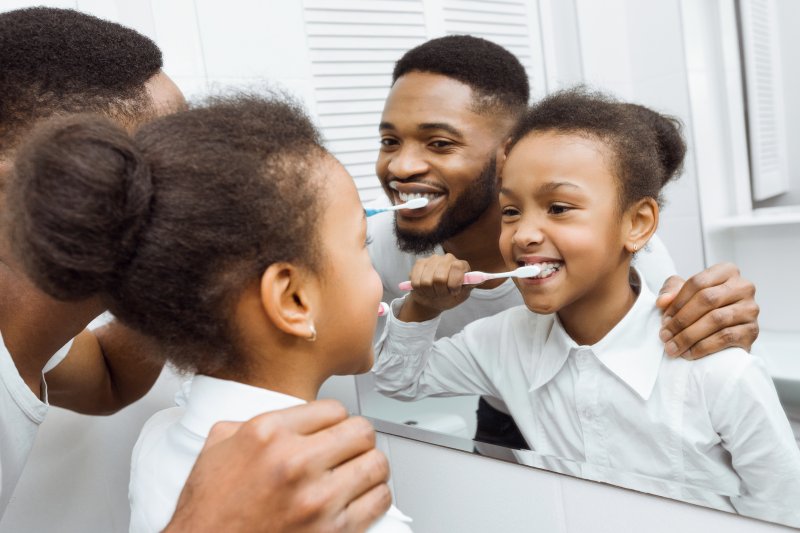 October is officially upon us. Do you know what that means? It's National Dental Hygiene Month! This unique time of the year serves as an annual reminder to practice daily habits that promote healthy teeth and gums. Although this campaign is targeted mostly towards children's oral health, it also helps remind adults to care for their teeth as well. Celebrate National Dental Hygiene Month by incorporating these six oral hygiene tips into your day-to-day routine.
Brush Your Teeth at Night
Everyone knows that the general recommendation is to brush your teeth at least twice a day. However, many people still neglect doing so at night. Brushing before bed is crucial to eliminate bacteria, plaque, and other debris that accumulate on your teeth throughout the day. If you skip this necessary step in your routine, you increase your risk of dental problems like tooth decay, cavities, and even gum disease.
Use a Proper Brushing Technique
Did you know that the way you brush your teeth is just as important as how often you do it? If you fail to brush properly, you can do more harm than good for your smile. Doing a poor job of brushing your teeth is almost as bad as not brushing at all! Unremoved plaque can harden, leading to calculus buildup and gingivitis (early gum disease). With that said, be mindful of your brushing technique. Take your time and move the toothbrush in gentle, circular motions to remove plaque.
Don't Forget to Clean Your Tongue
It may surprise you to learn that plaque, food particles, and bacteria can also build up on your tongue, leading to bad breath and other oral health problems. Unfortunately, many people skip this vital step in their routine. Every time you brush your teeth, don't forget to brush your tongue gently as well! Keeping it clean is essential for maintaining good oral health.
Use Fluoride Toothpaste
Nowadays, there are endless types and brands of toothpaste, all promising many different benefits. But no matter which version you choose, always make sure it contains fluoride! It's an essential mineral that provides a protective barrier for your teeth, fighting off germs that lead to tooth decay and cavities.
Floss Daily
Some people are avid brushes but regularly neglect to floss. It may seem like no big deal to skip flossing, but you're actually missing out on several health benefits. Doing it once a day helps stimulate the gums, reduce plaque, and lower inflammation in the area. What's more, it decreases your risk of gum disease!
See Your Dentist Regularly
Even if you take excellent care of your teeth at home, it's vital to see your dentist at least twice a year. At these visits, they'll remove calculus, search for cavities, spot potential oral health issues, and offer effective treatment solutions.
During National Dental Hygiene Month, try to be more aware of your dental care. By implementing these six oral hygiene tips into your routine, you can maintain a healthy smile that lasts years to come!
About the Practice
At Juno Beach Smiles, we offer comprehensive, state-of-the-art, exceptional dental services that are guaranteed to meet all your oral health needs. Our team uses modern technologies and techniques to ensure you're receiving the best treatment possible. We also enjoy educating our patients to help them make confident and informed decisions about their oral health. For more oral hygiene tips, visit our website or call (561) 622-7243.