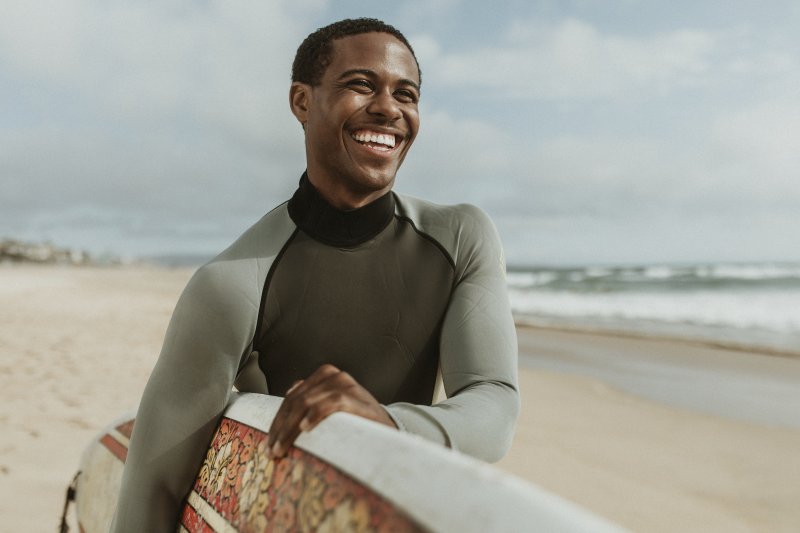 Ready to embrace a showstopping smile that radiates confidence this summer? Porcelain veneers are one of the most popular, effective, and truly transformative cosmetic solutions available, and they can give you the look you desire in just 2-3 dental visits. Read on to learn more about these unique restorations and how you can prepare for a new and improved appearance while enjoying the beach with family and friends.
Porcelain Veneers 101
Porcelain veneers are thin sheath coverings that go on over the front surface of your teeth. Designed to hide imperfections of all types, they are known for their unique customizations and ability to change the shape, size, and color of your teeth. Whether you're living with chips, cracks, stains, discoloration, minor gaps or misalignments, or misshapen teeth, veneers can give you the permanent aesthetic you desire in a matter of weeks.
What Makes Veneers Special?
Unlike other cosmetic solutions that require more invasive procedures and replacements every few years, porcelain veneers offer patients like yourself an array of benefits that will leave you pleased with your decision, such as:
You'll worry less about discoloration because veneers are considered stain-resistant
They blend in with the rest of your smile because they appear natural
They can hide various imperfections unlike most solutions that can only address color (i.e., teeth whitening) or alignment (i.e., orthodontics)
Veneers are known to last 10-15 years with proper care
They are placed in only 2-3 visits to your dentist's office
Veneers do not require as much tooth structure to be removed as dental crowns and don't require years of treatment as orthodontics
Who Is Eligible to Receive Veneers?
The only way to know if you're eligible to receive veneers is to schedule a consultation with your cosmetic dentist in Juno Beach. Having good oral health is key, as signs of tooth decay or gum disease can create problems for your oral cavity and veneers. If these issues are not addressed beforehand, you can be left paying more money to have your restorations removed before treating the problem and having the veneers put back into place.
You may also possess imperfections that are considered "too big" for veneers such as an oversized gap. If deemed too large, the only way you can achieve a more pleasing aesthetic is with orthodontics. However, most cases are treatable with veneers.
Your dentist will be your ally in your pursuit of a beautiful smile, so don't be afraid to ask questions when considered porcelain veneers. Once they're in place, you'll feel more confident when you take to the beach to enjoy some fun in the sun.
About the Author
Dr. Greg Riley completed his Doctor of Dental Medicine degree at the Temple University School of Dentistry. For 20 years, he has been caring for his patient's smiles, offering a wide array of dentistry services, many of which include are designed to improve a person's aesthetics. Providing cosmetic dental treatments that eliminate stains and fix chips, cracks, minor misalignments, and gaps, you can feel more confident this summer as you prepare to get away with friends or family. If you want to boost your smile before your memorable vacation, visit our website or call (561) 622-7243.