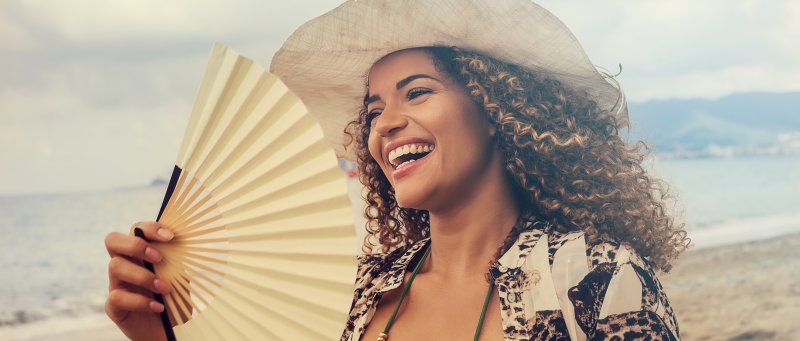 Whether you're planning a trip to another part of Florida with family or hopping in the car for a long road trip to the west coast with friends this summer, you'll want your smile to look and feel its best. Because there are bound to be endless photos taken, ensuring your teeth and gums reflect the image you want is essential, which is why a cosmetic dentist is here to share 4 unique treatments that will boost your smile and give you the confidence you deserve.
Hide Flaws with Veneers
Using thins sheaths of dental grade porcelain, your dentist can hide chips, cracks, stains, discoloration, minor gaps, minor misalignments, and even misshapen teeth. Removing only a small amount of tooth enamel from the surface, these customized restorations are applied and bonded to your teeth to create a new and improved, fully transformed smile that is stain-resistant! With proper care and maintenance, you can expect your veneers to last a decade or longer.
Remove Stains with Teeth Whitening
If years of drinking coffee and soda have left your teeth looking dull and yellow, teeth whitening can be the ideal solution to help you see a whiter, brighter smile. Whether you prefer professional in-office whitening that can produce results in as little as an hour or a take-home kit that will have you seeing a brighter shade in about two weeks, your teeth will look better than ever.
Straighten Smiles with Invisalign
These clear aligners are customized to fit your teeth and move them in the proper direction. Whether it is overcrowding, gapped teeth, or a misaligned bite, Invisalign will fit snugly against your smile and apply gentle pressure to encourage a shift. When worn 20-22 hours each day for 1-2 weeks at a time, you will notice a straighter, healthier, and more beautiful smile in the end. Invisalign aligners are known for producing faster results than traditional braces and offer a more discreet orthodontic solution than bulky metal brackets and wires.
Repair Broken or Decayed Teeth with Metal-Free Restorations
Traditional amalgam is no longer the only solution to treating decayed or damaged teeth. Instead, your dentist can now use metal-free restorations that not only repair and restore your smile but also blend in with your remaining healthy teeth. Crowns, bridges, inlays, onlays, and fillings can be easily masked using the right materials. But just because they're not made of metal doesn't mean they aren't durable. From Empress and E-max to custom ceramic or zirconia, your dentist can create a restoration that will last longer and look beautiful once secured in place.
Don't cancel your plans because you're embarrassed by your teeth. Talk to a dentist about available cosmetic treatments that will have you smiling confidently all summer long.
About the Author
Dr. Greg Riley completed his Master of Science degree at the University of Miami and earned his Doctor of Dental Medicine degree at the Temple University School of Dentistry. For 20 years, he has been caring for his patient's smiles, offering a wide array of dentistry services, many of which include are designed to improve a person's aesthetics. Providing cosmetic dental treatments that eliminate stains and fix chips, cracks, minor misalignments, and gaps, you can feel more confident this summer as you prepare to get away with friends or family. If you want to boost your smile before your memorable vacation, visit our website or call (561) 622-7243.