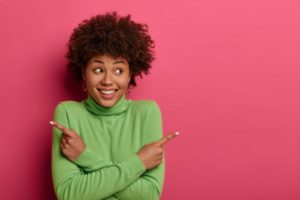 Maybe you're not the most decisive person. It has taken you a long time to finally move forward with a smile makeover, and you can imagine what your new and improved teeth will look like. But your decisions aren't over yet. Should you get veneers or crowns? What are the pros and cons to both options? How are you going to decide between these treatments? Read on to answer these questions and help you choose the right one for you!
Advantage of Veneers
When a restoration is placed onto a tooth, part of the enamel must be removed to make space for it. In the case of veneers, only a tiny fraction of the front enamel is taken, but crowns require removing tooth structure all the way around the tooth. If you're looking to preserve as much of your natural teeth as possible, veneers may be the right answer and involve less damage.
Advantages of Crowns
Instead of only covering the front surface of your teeth like veneers, crowns surround the entire tooth. This restoration becomes necessary if you experience extensive damage to a tooth or if the tooth as a whole is misshapen or too small to support a veneer.
Molars
Although veneers can in theory be used on molars, these teeth frequently experience immense force from chewing. That's why most dentists strongly recommend dental crowns for molars, even in purely cosmetic cases.
Affordability
In addition, crowns are often used for restorative purposes as well as cosmetic. If you need a root canal or you've suffered a broken tooth, a crown is the restoration that can bring back the tooth's function and its beauty. As a result, there may be instances where dental insurance may cover part of the cost, whereas veneers are not usually covered at all by insurance. This may help lower your out-of-pocket expenses for treatment if you have crowns instead of veneers.
How You Can Choose
If you're still on the fence about which restoration would be better for your situation, don't worry! You don't have to select the appropriate treatment on your own. Your dentist can examine your teeth, listen to your needs and goals, and then recommend the option that will give you the smile you've wanted.
Ultimately, you and your dentist share the same goal—to end with a beautiful, strong smile. Together you can discuss your specific case and create a plan that will leave you loving the results. Either way you go, you're sure to have lifelike restorations that make your smile stand out in the best possible way.
About the Practice
At Juno Beach Smiles, between Dr. Greg Riley and Dr. Duane Keunig alone, we have nearly 40 years of combined dentistry expertise. They are both members of the American Academy of Cosmetic Dentistry and the Florida Academy of Cosmetic Dentistry. They also are dedicated to continuing education with prestigious organizations like the Spear Institute and the Dawson Institute. If you are trying to decide between veneers and crowns for your smile makeover, you can contact Juno Beach Smiles through our website.