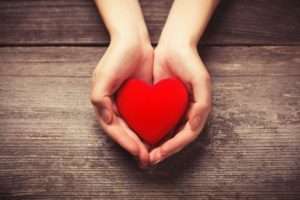 When you hear the words "heart health," you probably don't think about brushing and flossing your teeth. However, a growing body of research suggests that you should! Countless studies have found that taking good care of your teeth and gums plays a significant role in the wellbeing of the rest of your body. While a healthy smile can positively influence your health and heart, poor oral health can lead to an increased risk of serious health conditions, including cardiovascular disease. Since February is American Heart Health Month, now is the perfect time to learn how keeping your heart healthy starts with your smile.
Gum Disease Is Linked to Heart Health
Over 98% of systemic, whole-body health conditions present symptoms in the mouth. In fact, your dentist may be the first to spot warning signs of problems like diabetes, osteoporosis, cancer, or kidney disease. Similarly, an unhealthy mouth can cause problems for your overall wellbeing. Poor oral health has been linked to issues like respiratory infections, premature births, memory loss, and even a shorter lifespan.
Specifically, many experts are researching the connection between gum disease and heart health. Patients with gum disease are roughly 20% more likely to experience heart attacks, strokes, or other cardiovascular events than those with healthy gums. In a separate study, researchers found that those with gum disease were likely to spend 10-40% more on cardiovascular care costs than patients suffering from heart disease with healthy gums. While research is ongoing, it's widely believed that the bacteria and inflammation associated with gum disease can spread throughout the body and impact the inner linings of the heart's chambers and valves.
Heart Health Benefits of Smiling
Maintaining great oral health will also help you feel good about the appearance of your pearly whites, which will naturally encourage you to smile more! A wide array of studies has found that the act of smiling releases feel-good chemicals in the brain, such a serotonin, dopamine, and endorphins. Aside from boosting your mood, this also has a measurable effect on reducing stress and lowering blood pressure, which helps keep your heart healthy.
Keeping Your Smile & Your Heart Healthy
The American Dental Association and the American Heart Association recommend keeping yourself healthy with a few simple but important habits, like:
Brush your teeth and gums for two minutes twice a day
Floss thoroughly at least once a day
Eat a nutritious, low-sugar diet
See your dentist for routine dental checkups twice a year
Look out for signs of gum disease and take action against them right away
Maintaining great oral health does a lot more than protect your teeth from cavities. When you take care of your pearly whites, your smile and your heart will thank you!
About the Practice
Juno Beach Smiles is dedicated to providing personalized, effective, and comfortable dental care for smiles of all ages. Alongside plenty of relaxing patient amenities, they ensure their patients' comfort and wellbeing with state-of-the-art dental technology. Thanks to equipment like the soft tissue laser, treatments like periodontal therapy have never been more comfortable or more effective! To learn more about keeping your gums healthy, they can be contacted via their website or at (561) 622-7243.