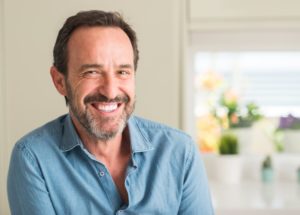 As part of the older generation, you're pretty set in your ways. Although everyone these days raves about the latest technology, you find good, old-fashioned values appealing. Maybe you even are suspicious of new innovations or changes. When you were younger and got a cavity, your dentist used amalgam fillings, which consist of mercury, silver, tin, and copper. Now, as you get a cavity, your dentist wants to place tooth-colored fillings. What was wrong with the old way of doing it? Is this change really for the best? In this post, you'll learn about four reasons why you should get tooth-colored fillings over amalgam.
More Subtle Appearance
You can't miss an amalgam filling. They are obvious, and often distracting, from the moment you see that unmistakable dark, silver blob on a tooth. On the other hand, when you first look at a tooth with a composite resin filling, it may take you a minute to see it there—if you can see it all. It blends in that well! Since it is made of dental plastic and ceramic, this filling material can be colored to match your enamel's exact shade. As a result, when you talk or laugh, others only see your confident smile.
Less Sensitivity to Hot and Cold
Remember that metal conducts heat, meaning that when it comes into contact with a hot or cold object, it becomes hot or cold itself. This trait comes in handy for cooking in metallic pots, but it can be a bad thing if you have metal in your mouth. Amalgam fillings can conduct extreme temperatures to the sensitive tooth nerve, causing pain or discomfort. Tooth-colored fillings do not contain any metal, which means that they serve as insulation for your tooth from the hot and cold.
Less Damage to Your Tooth Structure
In addition to changing temperature because of exposure to hot and cold, amalgam fillings also contract and expand based on the temperature. This regular fluctuation puts unnecessary stress on your tooth, potentially leading to deeper cracks and the need for a crown instead of just a filling.
It's also important to know that amalgam does not attach to enamel well. To make sure it stays in place, additional enamel must be removed to make enough space for the filling material. In contrast, composite resin bonds very well to natural enamel, so you are able to retain more healthy tooth structure.
Enough Durability
One benefit of getting amalgam fillings is that this material is exceptionally strong and can last for up to 20 years. But is it really worth all the other disadvantages that come with amalgam fillings? Although not quite as durable, tooth-colored fillings can go for at least 10 years before needing replacement, and if you continue to visit your dentist regularly, over the years they can identify any weaknesses before you feel any discomfort.
While change can be difficult, making the switch from amalgam fillings to composite resin doesn't have to be. In nearly every way, it can improve your dental experience and help you smile with confidence for many more years to come.
About the Practice
Juno Beach Smiles is happy to welcome patients of all ages. We take pride in our outstanding service for those who live in and around the Juno Beach area. With more than 20 years of experience, Dr. Greg Riley takes more than 200 hours of continuing education every year to keep his skills sharp. Dr. Duane Keuning has studied with some of the country's most prestigious organizations, such as the Dawson Institute, Spear Institute, Rosenthal Institute, and the Levin Group. If you need a filling, you can schedule an appointment by calling Juno Beach Smiles at 561-622-7243 or clicking here.