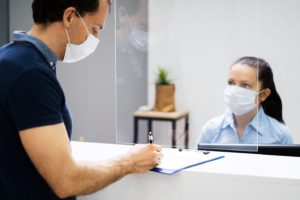 When COVID-19 reached the U.S., it shook up our daily way of life. Many people began questioning where it was safe to go, when it was safe to go there, and what businesses were doing to protect their clients and customers. Perhaps you even wondered, "Is it safe to visit my dentist near Palm Beach Gardens?" The answer to that question is yes! In this blog post, you'll learn about just some of the measures that your dental team has in place to protect you.
Saying Hello Without Contact
The very nature of dentistry involves some close contact with the professionals who are caring for your mouth, but your dental team is still committed to maintaining social distancing to the extent possible. That's why they won't shake your hand, hug you, or give you a high-five when they greet you. Those expressions of affection must wait until after COVID-19 is no longer a serious threat.
Asking Patients to Rinse with an Antimicrobial Mouthwash
During dental procedures, lots of tiny droplets from a patient's mouth can get released into the air. That's one reason why your dental team may ask you to rinse your mouth with an antimicrobial mouthwash before your appointment. While no mouthwashes have been tested against the coronavirus that causes COVID-19, your dental team believes that this simple precaution is worth the time. At the very least, it will help to fight plaque and gingivitis!
Cleaning Between Appointments
You will not have to worry about bacteria and viruses from past patients posing a threat to your health. Your dental team thoroughly sanitizes the operatories after each appointment, ensuring that every patient enters an environment that is as clean as possible.
Adjusting Scheduling Procedures
Before COVID-19, efficiency was a focus in dental practices. They treated as many patients as possible while still maintaining their quality of care. Now, they have drastically reduced the number of patients they see each day. This allows for greater social distancing and more time to clean the office between patients.
Stepping Up Staff Training
Even before COVID-19, dentists and their team members were serious about sanitation. Now, though, they have implemented an advanced training and awareness program to make sure that everyone in the office is familiar with updated information regarding how to fight the spread of dangerous disease.
Masks for Front Desk Team Members
Your dentist's front desk team never had a need to wear masks before the current pandemic. Now, though, they are protecting you by wearing ASTM Level 3 masks at all times. Please remember that they are smiling behind their face coverings!
No Waiting Room Activities
You might be accustomed to seeing magazines, a water cooler, and a coffee machine in your dentist's waiting room. Now, all of those things have been removed in order to prevent the spread of microorganisms.
The above precautions are just the beginning of what your dental team is doing to ensure you are in a safe environment during your appointments. They care deeply about both your oral health and your overall well-being!
Meet the Practice
Dr. Greg Riley and Dr. Duane Keuning are proud to serve as your highly skilled general and cosmetic dentists near Palm Beach Gardens. They have always prided themselves on creating a welcoming, safe, and clean office environment — and COVID-19 has only reinforced that mindset. To learn more about our practice and our safety protocols, contact us at 561-622-7243.