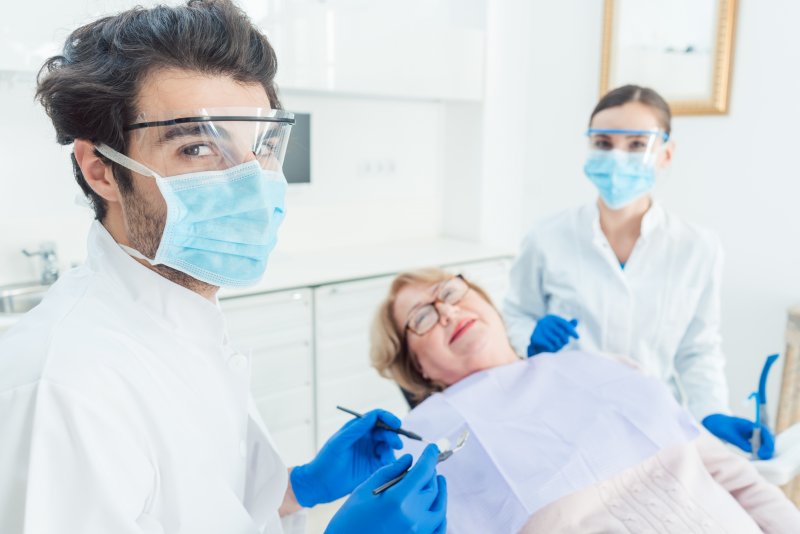 Since March, significant measures have been put in place to fight against the spread of COVID-19. After months of social distancing, face coverings, and stay-at-home orders, the transition out of quarantine has begun. However, it is more important now than ever that proper infection control and sanitation measures are followed. Therefore, your dentist near Jupiter is dedicating their time, skills, and resources to ensure their patients' safety at their dental appointment during COVID-19. Read on for seven measures you can expect at your next visit.
Opting for Contactless Greetings
According to the CDC, roughly 185,000 deaths have been prevented by enforcing social distancing! Although you and your dentist will inevitably breach the 6-foot distance guidelines at your appointment, your dental team is making social distancing a practical reality through contactless greetings. Therefore, they will be opting for air high-fives and waves over handshakes and hugs during the current pandemic.
Asking Patients to Use an Anti-Microbial Mouthwash
Significant sanitation measures continue to play an integral role in preventing the transmission of the Coronavirus. While no specific strains of mouthwash have been tested against the virus at this time, decades of research show that rinsing with an anti-microbial solution kills the germs that cause plaque, bad breath, and gingivitis. Therefore, your dentist will be asking you to brush, floss, and use mouthwash before your appointment as another layer of protection.
Cleaning Between Each Patient
When bacteria and viruses are left to collect on surfaces, they can spread from person to person. To prevent this from occurring, dental teams are wiping down, sanitizing, and disinfecting each piece of equipment after every appointment. That way, proper infection control practices and cross-contamination guidelines are followed.
Introducing Sequenced Patient Scheduling
Pre-COVID-19, dental offices were known for their jam-packed schedules and sardine-style seating. Since this atmosphere is no longer conducive to a safe environment, dentists are introducing sequenced patient scheduling. This will provide ample cleaning time between appointments, as well as the ability to control foot traffic in and out of the office.
Offering Advanced Staff Training
Long before 2020, your dental team practiced extensive sanitation measures put forth by the CDC and Occupational Health and Safety Administration. However, dentists are increasing their already impressive arsenal of knowledge by undergoing advanced staff training. These awareness programs are designed to provide each member of the team with additional education and preparedness regarding dental safety during a pandemic.
Enforcing Front Desk Masks
While seeing your dentist in a face covering isn't anything new, seeing the front desk team in them is! Although it may take some time to adjust to, it is another measure their practice is implementing to limit the transmission of airborne particles. However, it is important to know that they are as happy as ever to see you (even behind their mask!).
Removing Communal Activities
Magazines, coffee machines, and toy chests were just a few of the perks that made the waiting room a pleasant experience. However, for the safety of the staff and their patients, dentists are removing all communal activities during the pandemic.
Although these measures may seem exhaustive, your dental team is happy to implement them to create a safe, sterile environment for their patients. That way, you can get the oral care you need without sacrificing your peace-of-mind!
About the Practice
At Juno Beach Smiles, patients can expect a comprehensive array of services, the latest technology, and exemplary care at their newly remodeled, state-of-the-art office. Led by Dr. Greg Riley and Dr. Duane Keuning, each member of the team is united by their mission to use their advanced training, passion for dentistry, and dedication to excellence to provide their patients with healthy, beautiful smiles. If you would like additional information on COVID-19 visits or are looking for a dentist near Jupiter, don't hesitate to visit their website or give them a call at 561-622-7243.