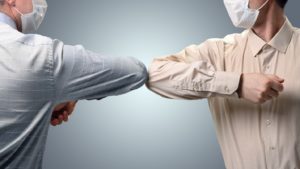 Handshakes and hugs are wonderful ways to greet your dental team because these gestures convey warmth and friendliness. Unfortunately, they are not wise practices during COVID-19. Keeping your distance from people is one of the best ways to protect both your health and theirs. How, then, can you greet your dental team in a friendly manner without initiating unnecessary contact? Here are some creative ideas.
Elbow Bumps
Your elbows are unlikely to pick up stray contagions, so when two elbows meet, the risk of a virus passing between them is pretty low. Elbow bumps were one of the main greetings used in Liberia during an Ebola outbreak.
Sign Language
Are you a hugger? Since literally hugging your dental team is currently inadvisable, you can give them a different type of hug — a sign language hug. Simple curl both of your hands into fists, then cross your arms over your heart. This simple and easy gesture conveys all the affection of a hug without the risks of physical contact.
Waving
Of course, waving is a classic way to greet someone from a distance. You might be used to waving when you see your neighbor in their yard or when you are driving by your friend's house, but you can also use this simple greeting in the dental office.
Or, if you want to put a bit of extra flair into your waving, you can use jazz hands instead. This gesture is traditionally used in dancing. All you have to do raise both hands with the palms facing outward, then move your hands to and fro.
Bows and Curtsies
Bowing has been used as a Japanese greeting for centuries. It conveys a great deal of respect. Simply lower your head and the upper part of your torso to use this ancient salutation.
You might even try a curtsy by placing one foot in front of the other and slightly bending the knees. This ages-old, traditionally female greeting might feel a little funny, but we live in unusual times. Why not embrace the strangeness?
Long Live and Prosper
Are you a fan of Star Trek? The Vulcan greeting has long held a place in pop culture, and it makes a fun, lighthearted way to say hello and convey warm wishes to your dental team. Raise one of your hands with the palm facing outward, and separate your index finger and middle finger from your ring finger and pinky finger, creating a V shape with your hand (it might take some practice to train your hand to cooperate).
You can use most of the above-listed greetings whether you are attending an in-person appointment or taking advantage of teledentistry. These creative ways to say hello to your dental team might brighten both your day and theirs!
About the Author
Dr. Greg Riley has spent two decades helping patients of Juno Beach Smiles to enjoy improved oral health. He earned his Doctorate in Dental Medicine from the Temple University School of Dentistry. Since then, he has devoted thousands of hours to continuing education. He and the rest of our team are taking extensive measures to serve patients safely during the COVID-19 pandemic. To learn more about us and the safety protocols in our practice, contact us at 561-622-7243.