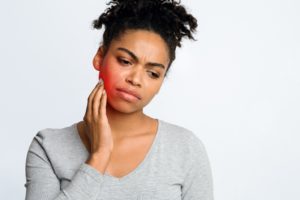 When a severe toothache or a dental injury strikes, your first instinct might be to head to the local hospital emergency room. After all, the staff there are trained to provide fast care for serious medical problems. And they may give you a prescription to help with the pain. However, there are several reasons why you should avoid the ER and call your dentist instead. In this article, we discuss some of those reasons.
Avoid the ER if Possible
During this time of COVID-19, many hospitals are much busier than usual. The staff may be quite stressed as they try to triage incoming patients. Your toothache or dental injury may be low on their list of priorities. You might have to wait for quite a while before anyone is available to tend to you.
In some cases, a hospital might even send you home without providing any treatment at all. Why? One big reason is that the doctors and nurses there have not been trained to deal with oral health problems. They can certainly help you if you are experiencing excessive oral bleeding or have a broken facial bone, but they do not have the knowledge or skills to treat toothaches and broken teeth. Only a dentist is qualified to handle those problems.
Another reason to avoid the ER if possible boils down to social distancing. There may be quite a few people at the hospital. Staying away from busy locations can reduce your risk of contracting COVID-19.
Visit Your Dentist Instead
Visiting your dentist instead of the ER ensures that you will get expert care for your oral health problems. It will also help you to avoid unnecessary contact with other people.
As soon as your dental emergency begins, call your dentist. While some dental offices remain closed due to COVID-19, others have resumed normal operating hours. And even the ones that are closed may still be offering emergency care. Describe your situation to the dental team, and they will make arrangements to see you as soon as possible — possibly on the same day you call. Your dentist will quickly and compassionately provide treatment to address your pain and get your oral health back on track.
Your dentist likely has advanced safety measures in place to fight the spread of COVID-19. Complying with these measures will help both you and your dental team stay safe.
Dental emergency? Skip the ER if possible. Instead, call your dentist. They are ready and willing to provide fast, expert care to relieve your pain and save your oral health.
About the Author
Dr. Duane Keuning graduated from dental school in 2001. In the years since then, he has undergone advanced training from several prestigious organizations, including the Dawson Institute, Spear Institute, Rosenthal Institute, and the Levin Group. He and the rest of the team at Juno Beach Smiles are ready to serve emergency and non-emergency patients. Contact us at 561-622-7243 to schedule an appointment or learn how we are doing our part to fight COVID-19.