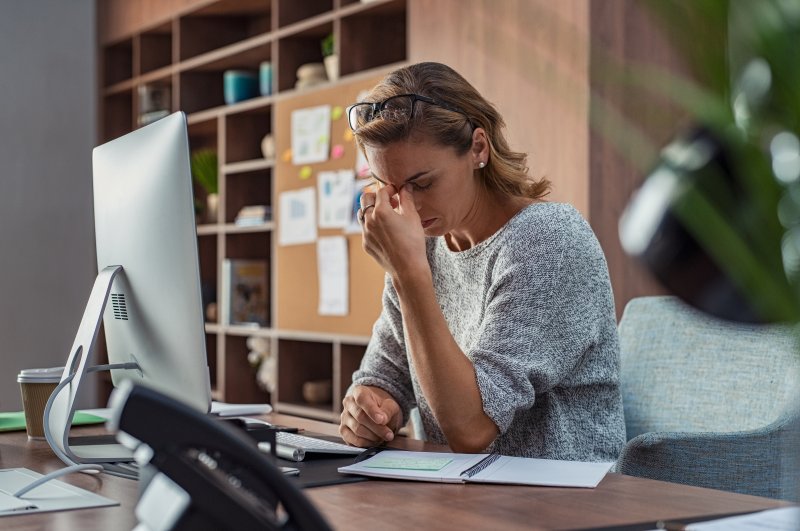 Whether it's money, pressure from your job, your relationships, or your overall health, you probably have plenty of reasons to be stressed. Unfortunately, the effects aren't just in your head; about 77% of Americans suffer from physical symptoms related to their stress – and recent studies show that some of those symptoms could be threatening your smile. Keep reading to learn more about the link between stress and your oral health.
How Does Stress Affect Oral Health?
One study published in the Journal of the American Geriatrics Society examined the mental and oral health of over 2,700 Chinese Americans over the age of 60. It was found that those who had higher levels of perceived stress tended to have symptoms of dry mouth, meaning their mouths were producing less saliva.
Dry mouth can be the root for many oral health complications. Saliva plays an important role in neutralizing acids produced by bacteria in your mouth and washing away food particles. If you're not producing enough saliva, plaque could build up more easily on your teeth, leading to an increased risk of tooth decay and gum disease. Other consequences of dry mouth can include painful sores, difficulty chewing and swallowing, and oral yeast infections.
Stress has been connected to other oral health concerns as well. For example, people who are constantly worried might grind their teeth together at night, wearing down their enamel and putting stress on their jaw joints. Also, feeling like you have too much to do can lead to spending less time on oral hygiene – in other words, not brushing or flossing as regularly as you should be.
What Can You Do About Dry Mouth Brought About by Stress?
There are a few different products that can be used to help moisturize your mouth if you're not making enough saliva naturally. This might include special mouthwashes that are meant to provide extra protection against cavities. Artificial saliva is also sometimes an option. For particularly severe cases, you might need prescription medication and fluoride trays to wear on your teeth at night.
In the meantime, you should also be taking steps at home to relieve your dry mouth symptoms and avoid complications. This includes drinking plenty of water to keep your mouth moist or chewing sugar-free gum to stimulate saliva production. And of course, you should always make time to brush and floss twice a day no matter how busy you are.
Most oral health problems only become worse over time when left alone. That's why it's important to address the symptoms of dry mouth as soon as possible; by preventing dental issues from becoming bigger, you give yourself one less thing to worry about and can focus on getting your stress under control!
About the Practice
At Juno Beach Smiles, we use the latest technology such as dental lasers and digital imaging to transform smiles with cosmetic dentistry. We're also dedicated to providing excellent preventive care so that you can enjoy your improved pearly whites for years to come. To schedule an appointment for dry mouth, visit our website or call (561) 622-7243.