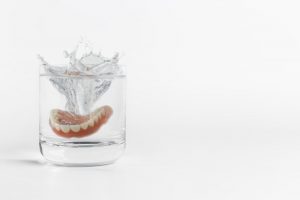 After having your dentures in Juno Beach for a while, you've noticed that they don't fit the same way they used to. When you take them out, you notice pressure sores in your mouth and that your gums are irritated. Typically, dentures last anywhere from five to 10 years, and your face and mouth are constantly changing shape, so it may be time to get them adjusted or even get new restorations. Read on to learn five signs that you need to schedule an appointment with your dentist to check up on your dentures.
Difficulty Chewing and Speaking
Just like when you first got your dentures, you notice that you're having difficulty speaking and chewing again. This can defeat the purpose of restoring your missing teeth, because they're supposed to help you regain your ability to complete basic functions like chew and speak. If these tasks are becoming more difficult, it could indicate that you need to have your dentures adjusted to fit the new shape of your gums.
Just like chewing, speaking relies on your teeth, and when your dentures don't fit properly, they can cause you to slur, have a lisp, or a clicking sound. This is another sign that your restorations need to be refitted or relined.
The Way They Fit Feels Different
Your dentures rely on suction and your lip and cheek muscles to stay securely in your mouth. This is possible because they're custom-fitted for your gums. As your facial shape changes over time, they can begin to feel too big in your mouth. Plus, if you notice that your cheeks or jawline looks different, your dentures probably need to be adjusted.
Oral Sores
When your dentures don't fit your mouth properly, pressure sores can develop on your gums. This is because when you bite, the force isn't being evenly distributed. If these do develop, you most likely need your restorations adjusted or need new ones. Also, oral sores and raw patches can occur because of cracks in your dentures. These can eventually turn into oral infections, so it's important to get them repaired or replaced before this happens.
Gum Irritation
At first, your dentures are foreign objects in your mouth, which may have caused a bit of soreness. Once your mouth is used to the way they feel, this shouldn't happen. If you notice any irritation, inflammation, or bleeding, your dentures could be damaged. To combat oral health problems from developing, be sure to maintain your hygiene routine.
Stains or a Funky Odor
If your dentures are fractured or damaged, this can allow food particles and bacteria to accumulate and cause a smelly odor to develop. Be sure to care for your dentures regularly as your dentist recommends. To prevent odor and staining, If they are damaged, be sure to get them replaced as soon as possible.
If it's time for you to replace your restoration, be sure to ask your dentist about dental implants in Juno Beach. This option doesn't just restore the visible surface your missing teeth, but also the root. As one of the most advanced treatments to replace teeth, dental implants can provide you with an array of benefits that traditional restorations aren't able to.
About the Author
Dr. Greg Riley has been restoring smiles in Juno Beach for over two decades. As a member of the American Academy of Cosmetic Dentistry and a professional dedicated to advancing his education, he is able to provide his patients with the latest techniques and treatments in the dental field. He enjoys improving his patients' quality of life by remodeling their smiles, which is why he offers services such as full mouth reconstruction and dental implants. For questions or to schedule a consultation, visit Juno Beach Smiles' website or contact 561-622-7243.