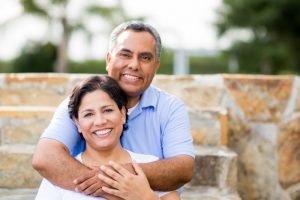 Missing teeth can be a huge burden, especially if you're older. Dentures may replace teeth but they never really feel as natural as your previous teeth did. The same is often true for dental bridges which only sit on top of the gums. When it comes to regaining that natural feel that teeth provided, the best and only way to get it back is through dental implants.
But how do you know that your implant-supported bridge in Palm Beach Gardens will feel natural? Today, a dentist answers exactly that.
Why Do Dental Implants Feel Natural?
It's very important that people understand the difference between traditional bridges and bridges fitted with implants. Traditional bridges do not involve replacing any of the missing root structure once teeth are lost; they only rest on top of the gums. Dental implants on the other hand are meant to fill the space in your smile as well as the root structure. Once the implant is placed inside your jawbone, the bone surrounding it will fuse to the implant. The gums will follow soon after as well.
Because of this natural integration with your jaw, implants should feel indistinguishable from natural teeth. Initially after your surgery, you'll want to hold off of eating tough or hard foods. You'll also want to avoid tobacco products at all costs since they dramatically affect your mouth's ability to heal. Once the permanent crown is placed, you can eat, drink and smile to your heart's content.
Will Eating Feel Natural?
Implants are not only designed to look like natural teeth, but function like natural teeth as well. During the osseointegration process, the alveolar bone inside the tooth socket bonds with the implant, which means it can receive the same chewing forces that natural teeth roots can. This integration is key to stimulating the rest of your jaw and preventing it from shrinking over time.
If this bone wasn't bonding with the implant, chewing wouldn't feel nearly as natural. This is the same reason why dentures and traditional bridges don't offer the same natural feeling when chewing food, even though they look natural in your smile.
Will Anyone Notice That I Have Implants?
Implant-retained bridges use the same ceramic material that you'd find in any porcelain crown. Porcelain is designed to not only be shaded to match the rest of your teeth, but reflect light in the same way that enamel does. This works to prevent the appearance of "chiclet teeth," which was a common issue during the early years of dental veneers.
As long as the dentist designed the restoration well enough to blend in with your smile and create an even bite, there's almost no reason anyone should notice your implants. The only reason they would is if they knew you personally and was aware you were missing teeth to begin with.
Ready to rebuild your smile? Ask a dentist about dental implants in Palm Beach Gardens by scheduling an appointment today!
About the Author
Dr. Greg Riley has placed and restored dental implants since 1999. On top of his official academic education, he completes over 200 hours of continuing education in dental science every year. To learn more about his expertise or practice, you can contact him through his website.