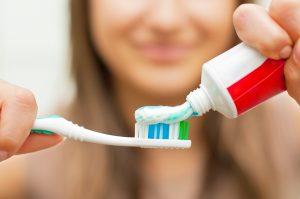 Toothpaste is part of your daily life. You use it every morning and every evening, and maybe you never give much thought to the substance that you're using to keep your pearly whites strong and healthy. But what is actually in that stuff? As your dentist in Juno Beach explains, you might be surprised by what you find out when you take a close look at your toothpaste's list of ingredients.
Harmful Ingredients?
The FDA and the American Dental Association approve of many toothpastes, but even some products that have their seal of approval may contain very low levels of certain potentially harmful substances, including:
Sodium lauryl sulfate. This is foaming and cleansing agent may irritate the soft tissues in the mouth and cause canker sores.
Sodium laureth sulfate. The human liver isn't able to metabolize this substance. It is a potential carcinogen and has been connected to hair loss.
This substance helps to fight bacteria and battle prevent gum disease, but some research suggests that it can lead to developmental harm. However, the negative effects haven't been proven conclusively.
Hydrated silica. This is otherwise known as common sand. It is used as an abrasive to remove plaque, and although it isn't necessarily harmful, it may not be something that you want to put in your mouth.
You're unlikely to suffer negative effects if your toothpaste contains any of the above ingredients because they are present in such small amounts. However, if their presence alarms you, you might want to start shopping for a different kind of toothpaste.
Is It Better to Choose a Natural Toothpaste?
There are quite a few toothpastes that are labeled as "natural," and they may be free of all of the above ingredients. But there are a few caveats that come with many of these products:
A large number of natural toothpastes do not contain any fluoride. Some people claim that fluoride is a harmful substance to be avoided at all costs, but dental professionals disagree. Fluoride is good for your teeth and won't harm you unless you ingest a very significant amount of you.
Some natural toothpastes contain herbal extracts. This isn't necessarily a bad thing, but it is something to be aware of since some herbs interact badly with certain medications.
Finding a Safe, Smile-Friendly Toothpaste
How can you find a toothpaste that will both protect your oral health and not lead to any long-term negative consequences? Here are a few tips:
Look at your toothpaste's label and research any unfamiliar ingredients. Be sure to look at multiple sources so you're getting a comprehensive understanding of what the ingredient does and its potential side effects.
If you're not comfortable using a toothpaste that has a particular ingredient, search for alternatives.
Ask your family dentist in Juno Beach for advice. They can answer your questions about dental hygiene products and recommend a toothpaste that is both safe and effective.
It's important that you know what you're putting in your mouth! Please research your toothpaste's ingredients so your smile — and the rest of you — stays as healthy as possible.
About the Dentist
Dr. Duane Keuning has been with Juno Beach Smiles for over 15 years. He enjoys building relationships with his patients and educating them on how to achieve excellent heathy smiles. If you would like to talk to him to gain some insight into how you can improve your oral hygiene routine, please contact our office at 561-622-7243.